The district-level museums in Shanghai have been eye-catching in recent years: Whether it is the Jiading Museum and Songjiang Museum, which were built in the 1950s, or the newly opened Fengxian Museum and the new Minhang Museum in recent years, they have spared no effort to Excavating and salvaging the local cultural context, or adopting the "bringing doctrine", and introducing cultural relics exhibitions based on the perspective of a large culture, all have their own characteristics. However, it is undeniable that the development of district and county museums in Shanghai is also uneven. Moreover, there are some current situations such as insufficient collections and weak academic curatorial strength.
Today is "5.18 International Museum Day". The theme of this year's International Museum Day is "Museums, Sustainability and a Better Life". The Paper will focus on the development and status quo of Shanghai's district-level museums, and listen to the directors of Shanghai's district-level museums talk about the museums in their eyes. As a museum director said: "We have limited resources and limited funds. It is impossible to do a phenomenal exhibition like Shanghai Bo, so we changed our perspective and adjusted our thinking. We still need to dig deeper into ourselves Local cultural resources and context."
Zhang Xuesong, Director of Fengxian District Museum: Combine Culture and Tourism
Over the past few years, we have been based on the idea of doing a good job in exhibitions and telling Chinese stories carefully, and in line with the attitude of being more responsible to the surrounding audience, we have introduced some good and high-quality exhibitions to the maximum extent. Shanghai is building five major new towns, and the cultural attributes of the new towns should have their own characteristics. Our museums should help the cultural construction of the new towns and build a cultural highland, which is what our urban residents just need. Secondly, within the city of Shanghai, we have also participated in the large aesthetic education classroom and the large museum project. From the perspective of citizens' needs, there are still relatively few good cultural and cultural relics resources in the suburbs, which are mainly concentrated in the central area of the city. District and county museums play a balancing role and promote the interaction between the urban area and the suburbs, including the interaction extending to the entire Yangtze River Delta region.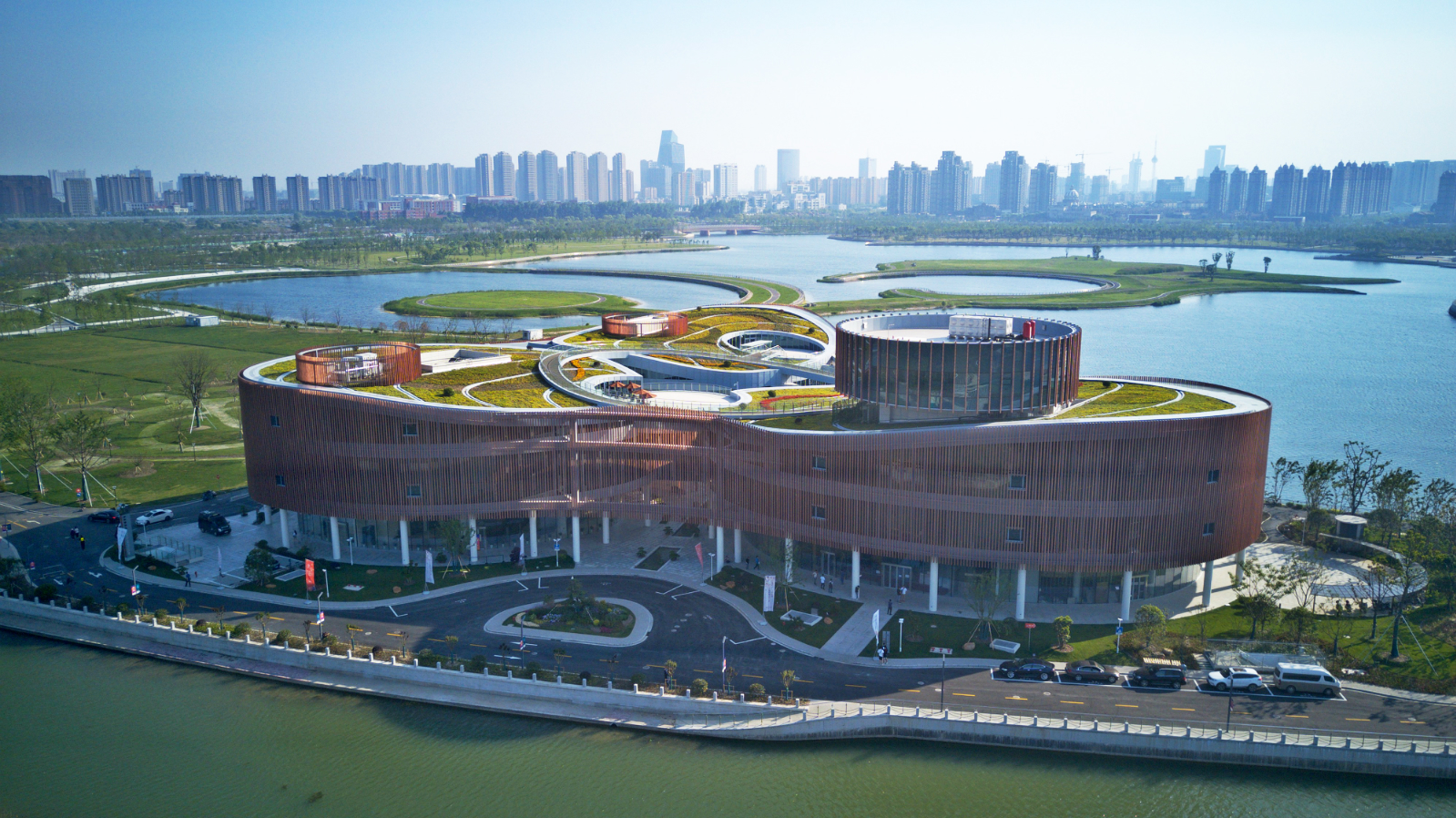 Shanghai Fengxian District Museum
Since the opening of the new museum, we have held many exhibitions of cultural relics that are both popular and refined, and have relatively large cultural attributes, which are deeply loved by the audience. For example, the first exhibition in 2019 - "Yongzheng Imperial Palace Cultural Relics Exhibition", in 2021, "The Light of Ancient Shu - Exhibition of Unearthed Cultural Relics at Sanxingdui Jinsha Site", in 2022, "Sun and Moon Brilliance - Ming Concubine in Jiangxi Provincial Museum" "Jewelry Boutique Exhibition", "And the Promise of the Sky-Shaanxi Zhou, Qin, Han and Tang Cultural Relics Exhibition" and other temporary exhibitions.
"Yongzheng Palace Museum Cultural Relics Exhibition"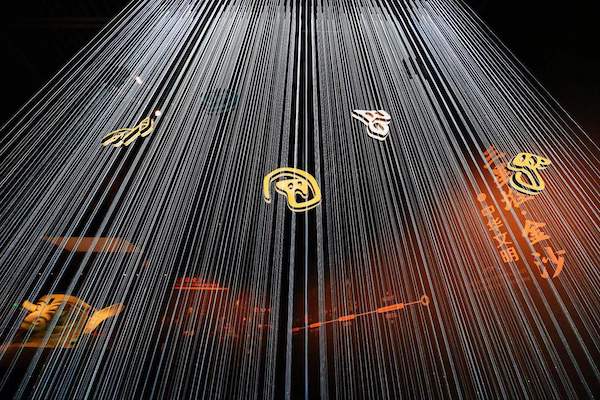 "The Light of Ancient Shu—Exhibition of Cultural Relics Unearthed from Sanxingdui·Jinsha Site"
This year, we went a step further in the exhibition planning and planned "Danjia Qingwen-Exhibition of the Essence of Chinese Characters and Cultural Relics", an original exhibition with the theme of Chinese characters, bringing together 26 museums in 10 provinces and cities across the country, involving 180 cultural relics The remaining pieces show the development and changes of Chinese characters. It should be rare to see such an exhibition of Chinese character cultural relics nationwide. Chinese characters are the longest-used characters in the world so far, without interruption. It embodies the endless wisdom and creativity of Chinese people for thousands of years.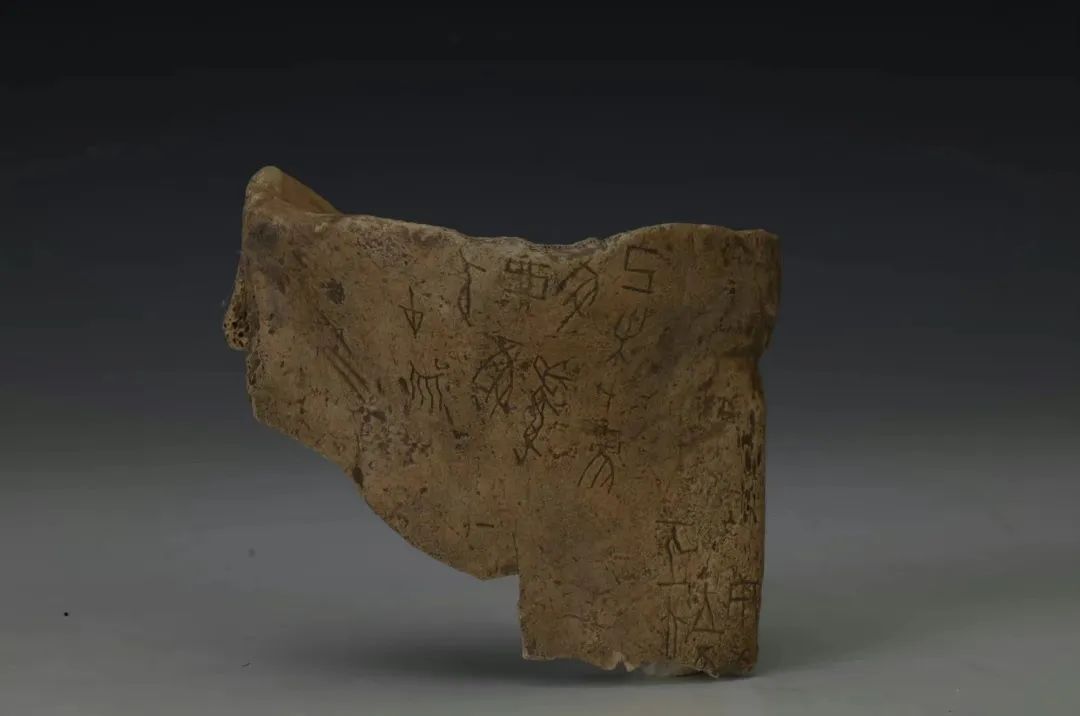 "Danjia Qingwen - Exhibition of the Essence of Chinese Characters and Cultural Relics"
Our introductions are not simply "imported", many of them have the color of original exhibitions, which have been planned and academically sorted out by ourselves, such as the "Yongzheng Cultural Relics Exhibition". The Palace Museum has not held porcelains from the Yongzheng period before. For the grand exhibition, they are equivalent to reorganizing the Yongzheng cultural relics; "The Light of Ancient Shu" is not simply displaying the unearthed cultural relics at Sanxingdui, but finding a relatively unique cut to sort out the relationship between Sanxingdui and the Jinsha site. This exhibition of cultural relics of Chinese characters is an original exhibition, reorganizing and integrating important cultural relics related to Chinese characters borrowed from various museums, and planning this main line of exhibition. Through this exhibition, the audience will definitely have a deeper understanding of our Chinese characters, and then fall in love with our Chinese characters. This is one of our original intentions for planning this exhibition.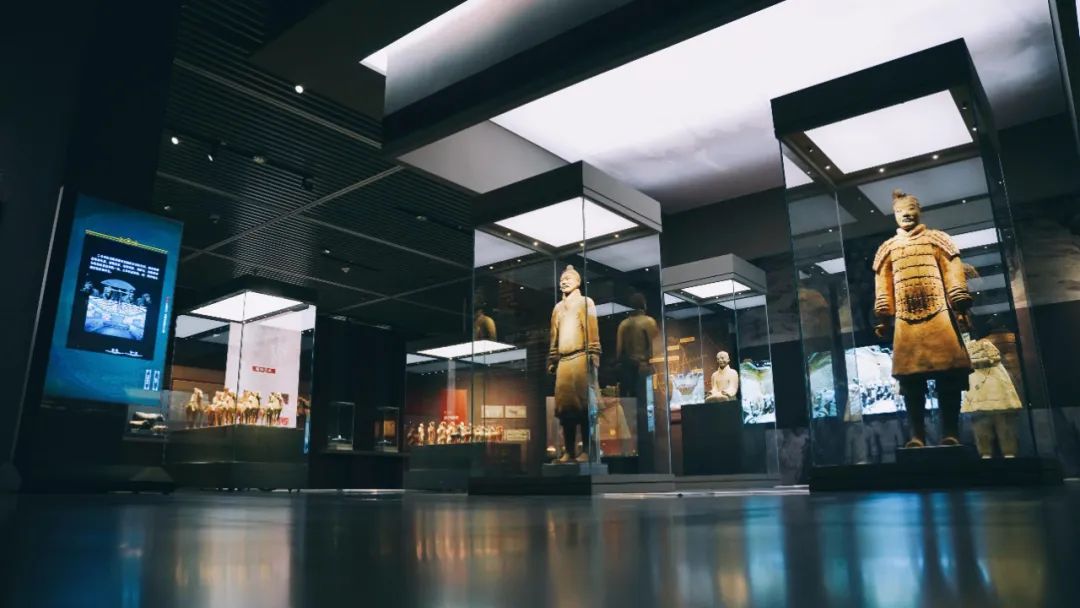 The scene of the exhibition hall of "The Promise of Heaven - Shaanxi Zhou, Qin, Han and Tang Cultural Relics Essence Exhibition"
In terms of exploring local culture, Xincheng also held a "New Jiangnan Culture and New City Construction" last year. The five major new cities may have different cultural attributes and cultural characteristics in each new city in each region. Our new town culture is actually a re-explaination of a brand new look in our Jiangnan culture, how our people can obtain a sense of satisfaction in their lives in the new Jiangnan culture. We will also integrate our cultural attributes with the exhibition when curating the exhibition.
In February of this year, we held the "Glory of Fenghai—Exhibition of Archaeological Achievements of the Zhelin Site". The Zhelin site dates back to the Liangzhu period and is an important ancient cultural site in Fengxian and even Shanghai. This exhibition is the first archaeological excavation exhibition based in Fengxian in cooperation with the Archaeological Department of Shanghai Museum. It provides physical materials for the study of a series of issues in the Liangzhu period, and also shows the characteristics of prehistoric archaeological culture in Fengxian area. It presents the life scenes of Fengxian ancestors in Liangzhu culture period. This kind of exhibition has played a very important role in the interpretation of the new Jiangnan culture and the creation of the cultural characteristics of the new city.
Any exhibition held by our museum takes into account various considerations, from the creation of cultural landmarks to the combination of culture and tourism, which is an important factor we consider. The relationship between museums and tourism is very close, and it can be used to promote tourism. There are now 4 parks in the surrounding area where Fengxian Museum is located. In addition to Jinhai Lake, there are also Youth Art Park and Paopao Park, which together form such a large area. Many people camp on weekends, and many people will come to visit our museum. It presents a very harmonious and peaceful picture, achieving a very good combination of culture and tourism.
Fengxian Jinhai Lake
Our advantage as a district-level museum is that the leaders of the Fengxian District Party Committee and District Government are very concerned about and support our museum projects, which is our strong backing. This is also one of our advantages, giving us enough room for development and telling our own Chinese stories well. From a disadvantage point of view, our collection resources are relatively small, which is also a common problem of district and county museums. For example, the Shanghai Museum has a collection of more than 1 million items. It can slowly research and plan, and can also exchange exhibitions with other museums, and even introduce overseas exhibitions. As a large museum in the central area, it has advantages. As a regional and local comprehensive museum, we cannot be compared in terms of resources, but we can make use of our strengths and avoid weaknesses, communicate more with other museums, introduce more good resources, set up a good platform, and do a good job of planning, and we can also attract a lot of people. Visitors from all over the world come to visit us and share the beautiful space of the museum.
Wang Hui, Director of Qingpu District Museum: Inherit ancient culture and promote water culture
Qingpu District in Shanghai is a typical water town in the south of the Yangtze River and an important town on the Maritime Silk Road. It has a profound historical and cultural heritage and rich underground cultural relics. It is the most concentrated area of archaeological sites in Shanghai, and archaeological excavations have achieved significant results. In 2021, the Qingpu Songze site in Shanghai was also selected as one of the "Top 100 Archaeological Discoveries in a Century". Based on the history and humanities of Qingpu, "inheriting ancient culture and promoting water culture" has become the academic orientation of our Qingpu Museum, and the exhibition planning of Qingpu Museum in recent years is also based on this.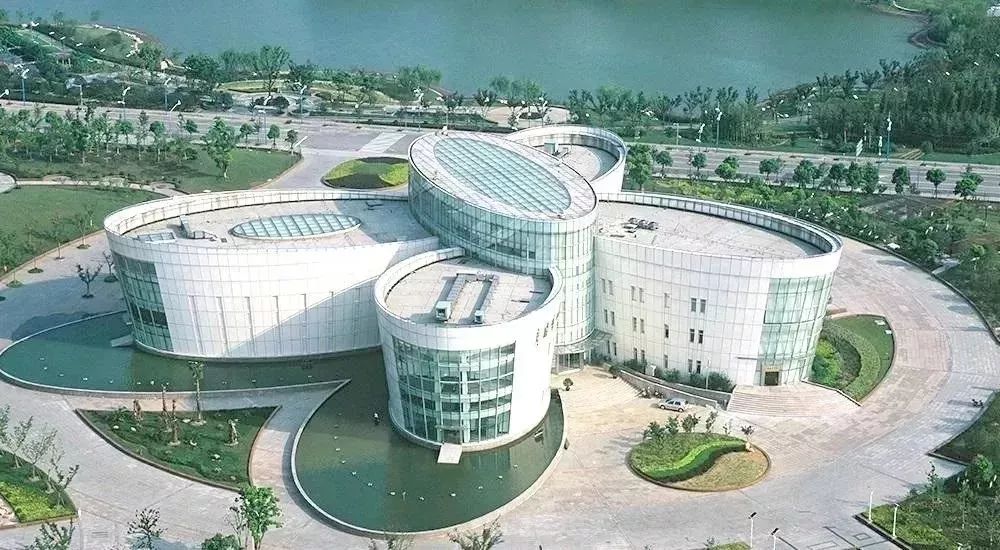 Qingpu Museum
In 2018, Qingpu Museum, with the support of the Palace Museum, National Museum of China, Shanghai Museum, Nanjing Museum and other units, and with the attention and care of the leaders of Qingpu District Culture and Broadcasting Bureau, overcame the lack of materials, cultural relics, funds and narrow communication channels After many difficulties, he successfully organized the "Mountain Moon High - Special Exhibition of Ren Renfa's Family in Qingpu, Yuan Dynasty", held Ren Renfa's academic seminars at the same time, published a collection of family cultural relics, and achieved good response in the industry. Using this as a breakthrough point, he focused on excavating And carry forward the culture of local celebrities.
In 2020, the Qingpu Museum undertook the construction of a practical project in Qingpu District - Zhizhi Academy and Qingpu Hall of Fame. This Hall of Fame is an independent exhibition hall, which displays 45 celebrities in Qingpu from ancient times to modern times. This is only on the exhibition board, and there are more in the multimedia, nearly 200. This is a very good thing in Qingpu. historical and cultural resources.
Every year, we plan exhibitions of relevant celebrities in Qingpu history. For example, the "Yundu Qingyue—Yuan Dynasty Painter Cao Zhibai 750th Anniversary and Landscape Painting Exhibition" launched last year detailed the family history of Cao Zhibai, a native Shanghai painter, especially focusing on Cao Zhibai's calligraphy and paintings and elegant collections. In the Yuan Dynasty, the Shanghai area was full of celebrities and the cultural scene of Confucianism talking and laughing. And edited and published "Yuan Cao Zhibai Painting Collection", which is the first Cao Zhibai painting collection in China, filling the gap in the independent publication of Cao Zhibai's landscape paintings.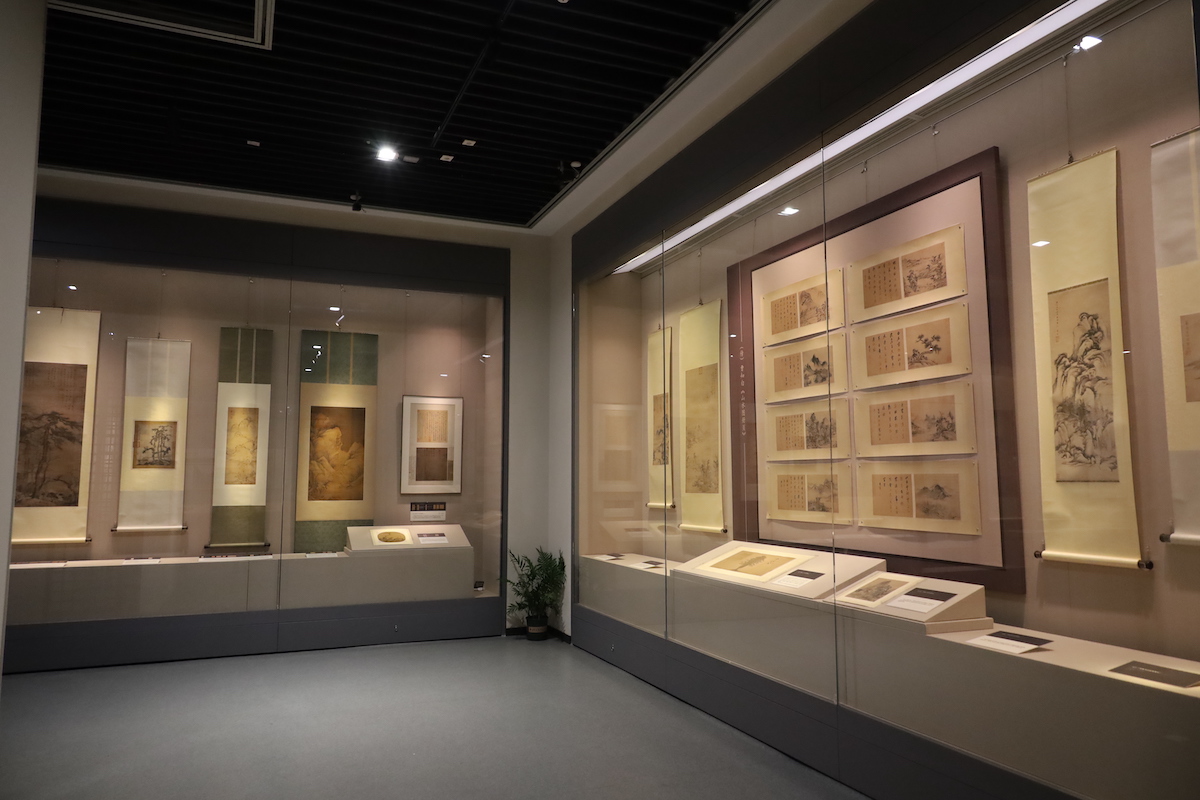 "Rhythm and Qingyue—The 750th Anniversary of Yuan Dynasty Painter Cao Zhibai's Birth and Landscape Painting Exhibition"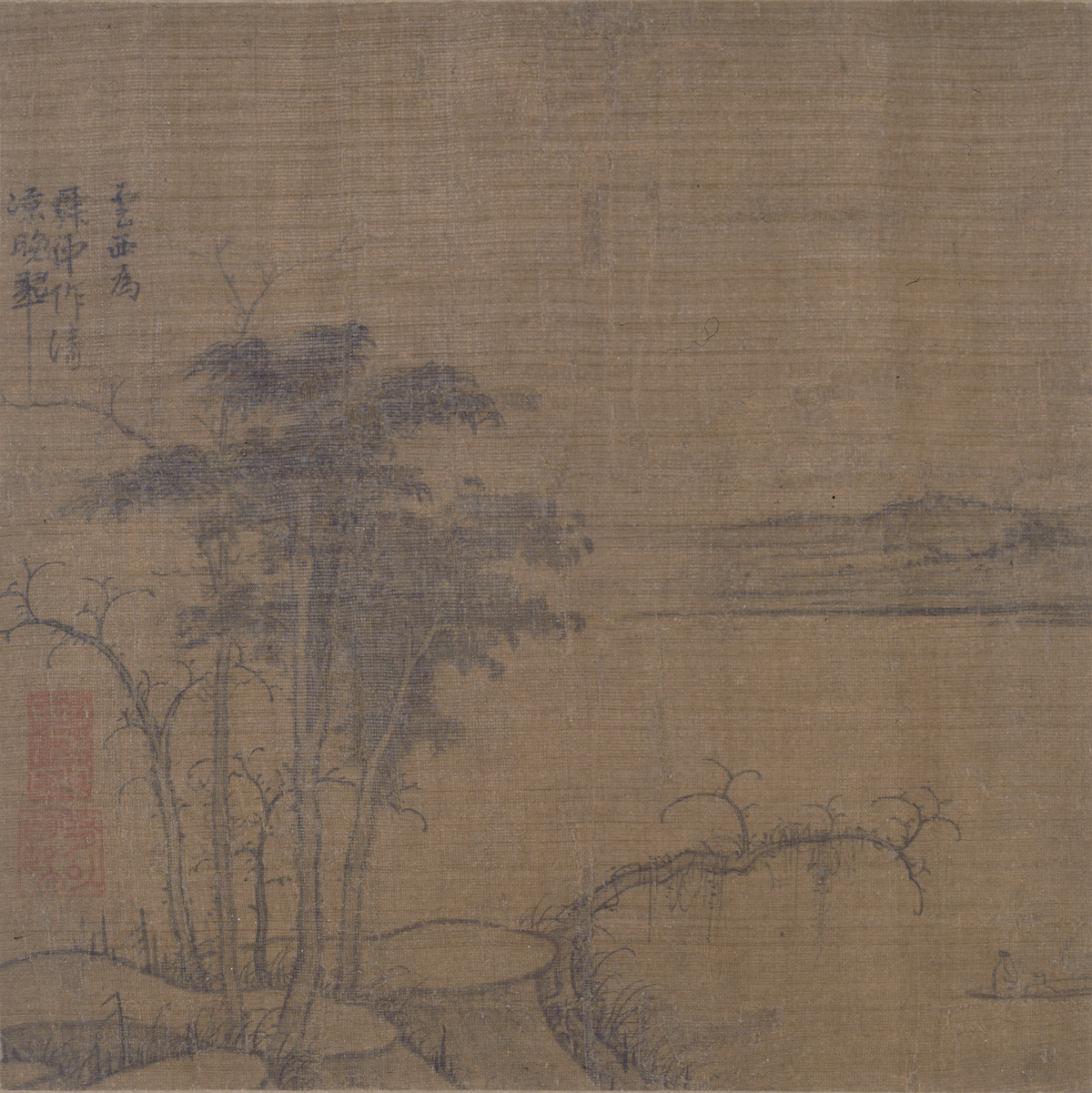 "Cool Evening Emerald Green Picture" ink wash on silk, 21.2 cm in length and 21.2 cm in width, photo courtesy of Shanghai Museum
Every one to two years, we will also introduce exhibitions related to the Silk Road. For example, in 2019, we launched the "Colorful Kucha Remains of the Silk Road - Kucha Grottoes Mural Art Exhibition", which restored the murals of Cave 38 of the Kizil Grottoes in large scale; Waves and Sails—Exhibition of Unearthed Cultural Relics from the Yuan Dynasty Site in Fancunjing, Taicang", mainly focuses on the unearthed cultural relics from the Yuan Dynasty site in Fancunjing, Taicang, briefly expounds the relationship between Qinglong Town in the Song Dynasty and Taicang Port in the Yuan Dynasty, and vividly reproduces the development of Taicang Port in the Yuan Dynasty. Prosperity reveals the important position of ancient Taicang in the national maritime system.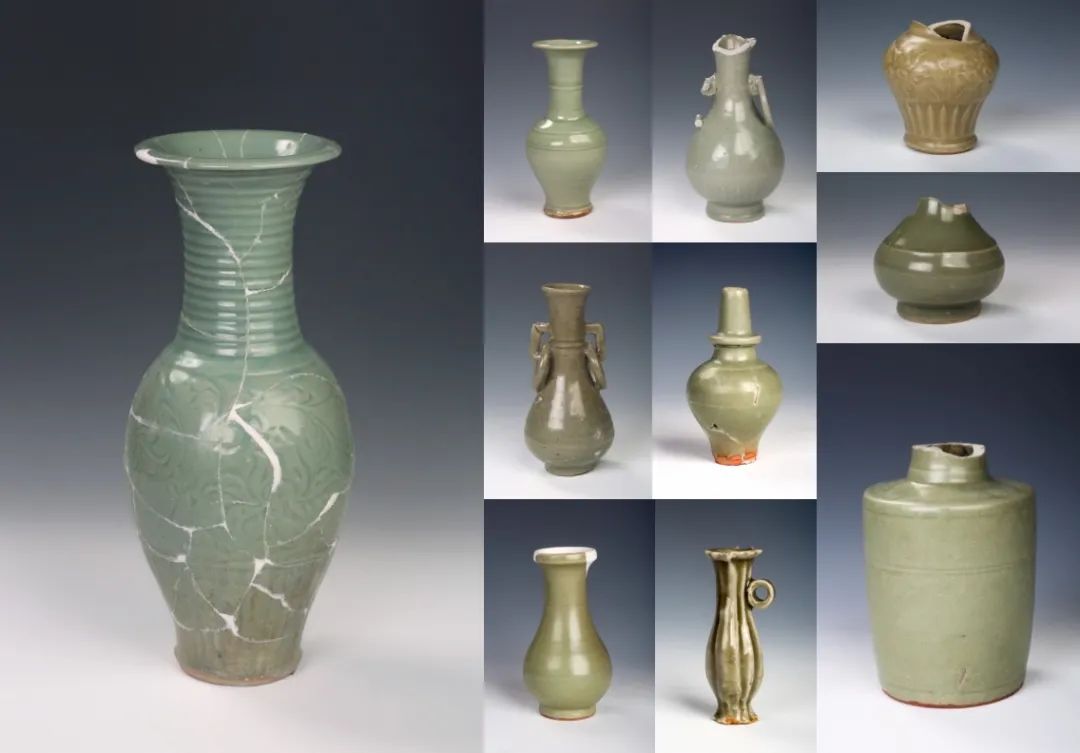 "Shadow of Sails in Canglang - Exhibition of Cultural Relics Unearthed from Jing Yuan Dynasty Site in Fancun, Taicang"
The weak academic strength and the shortage of collections have always existed in our museums. This is also a common problem in museums in districts and counties. This is difficult to change at once. This requires the museum to continuously improve its academic level. Focusing on the cultivation of academic strength, we mainly improve the professional level of museum personnel through original curation and project research. This is a good way to cultivate reserve teams and professional strength, including the exhibitions we introduce every year and other exhibitions. It has our professional personnel involved.
In terms of collections, Qingpu Museum has collected through different channels in recent years to enrich the collection. One is social donations, and the other is purchasing collections through Shanghai cultural relics stores and auctions with financial support. In recent years, we have established the direction of collecting cultural relics focusing on the cultural theme of Jiangnan water towns, and gradually formed a characteristic and systematic collection system. Improve the Qingpu Contemporary Celebrity Database, enrich and improve the characteristic database of Qingpu historical documents, and at the same time open it to the society in a timely and appropriate manner.
In terms of future planning, Qingpu Museum should give full play to its professional advantages, go further outside the museum, actively integrate into the society, and provide better cultural support and cultural services for grassroots streets and towns. For example, many streets and towns are using cultural relics buildings or other spaces to create characteristic exhibition halls, calligraphy and painting halls. We will try our best to provide them with support and assistance with relevant literature and intellectual resources to help rural revitalization and tourism development.
The temporary exhibition hall of Qingpu Museum is relatively small, and our space is not enough for some large-scale exhibitions or special exhibitions. Therefore, based on our own positioning, we will pay more attention to the collation, research and display of local culture while focusing on inter-library exchanges and cooperation in the future, so as to improve the sustainable and high-quality development momentum of museums, expand the influence of Qingpu culture, and promote Qingpu New City. It also allows citizens to share more cultural achievements, realize cultural benefits for the people, and well interpret the theme of "Museums, Sustainability and Better Life" of this year's International Museum Day.
Yu Siyan, Director of Jinshan Museum: Excavating Jinshan's historical and cultural heritage
Jinshan Museum may be the only institution in Shanghai that integrates cultural heritage work.
Now there are more movable cultural relics and immovable cultural relics in Shanghai suburban museums. Here we have movable cultural relics, immovable cultural relics, and intangible cultural heritage. I think museums should learn from the living inheritance of intangible cultural heritage, and intangible cultural heritage can learn from museums about its academic research.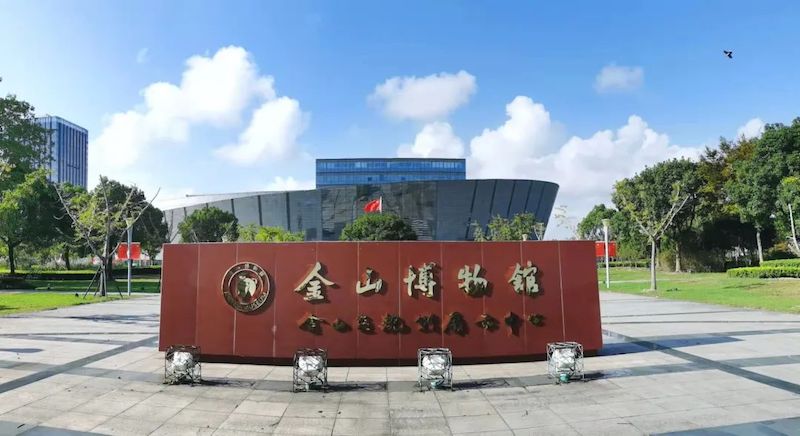 Jinshan Museum
In these years, starting from 2016 and 2017, Jinshan Museum is also exploring and exploring a way to hold original exhibitions, which is also a major feature of these years.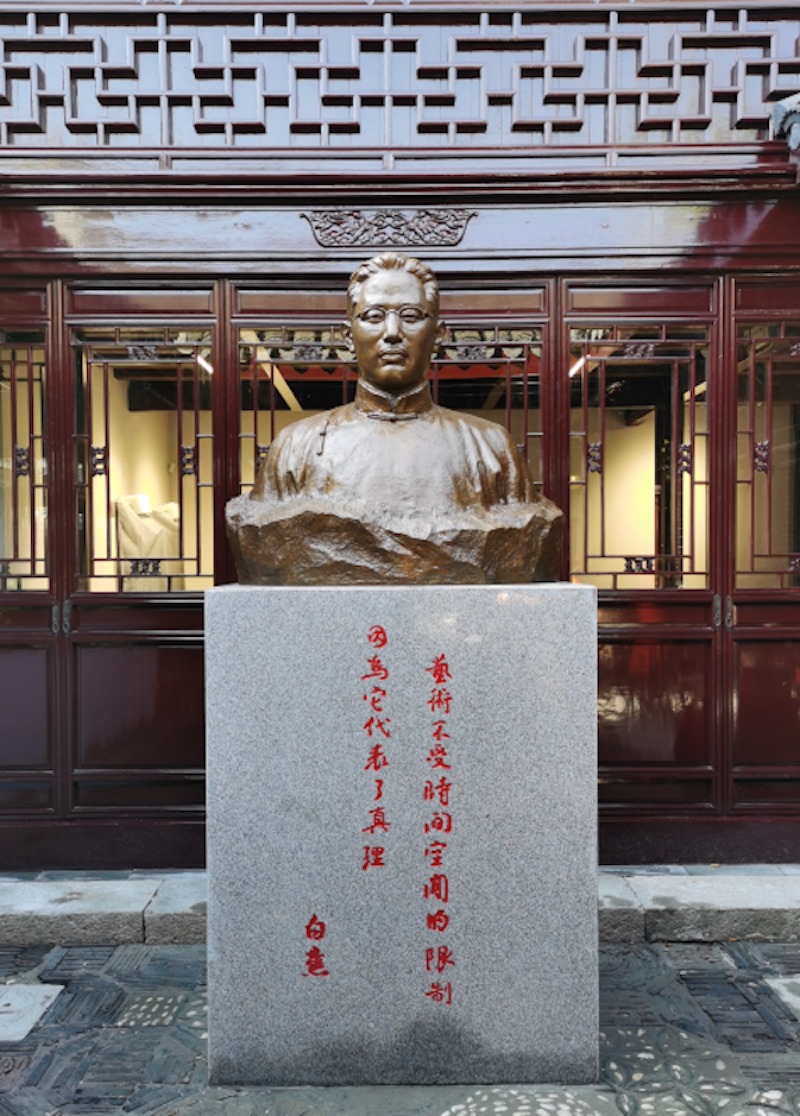 The bronze statue of Mr. Bai Jiao was made by He E Sculpture Institute. The pedestal is engraved with Baijiao's quotations: "Art is not limited by time and space, because it represents the truth" (Baijiao's Quotations)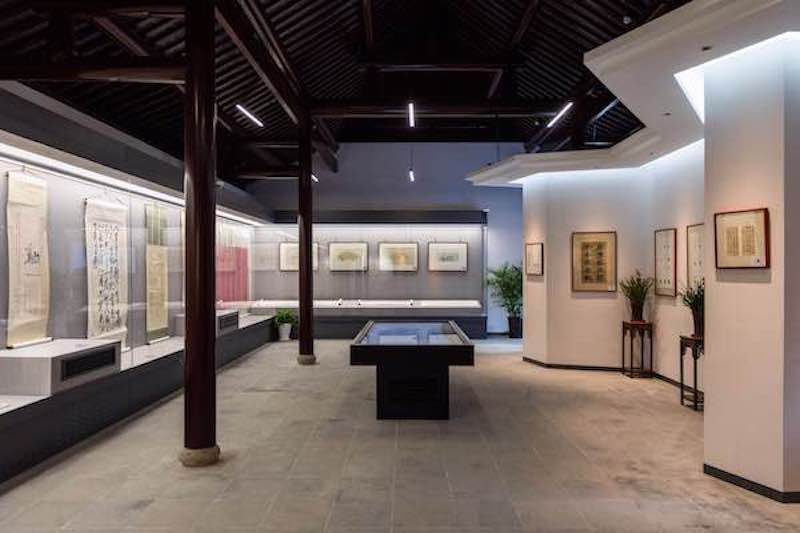 Baijiao Art Museum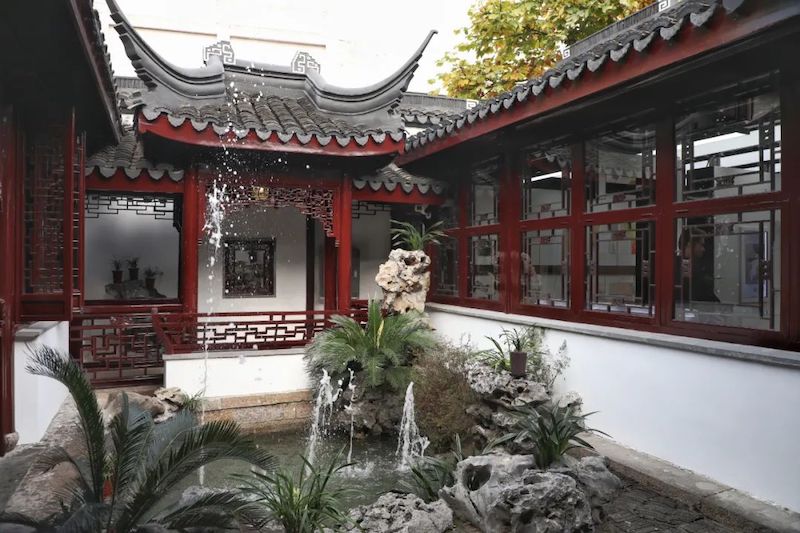 Baijiao Art Museum
We held the "A Gentleman Like an Orchid" Baijiao Exhibition at the Baijiao Art Museum. "Zhu Xuefan in the War of Resistance Against Japan" was held at the Shanghai Workers' Cultural Palace, telling the contribution of Zhu Xuefan in the War of Resistance through cultural relics. Afterwards, we held an exhibition of Nanshe at the Shanghai History Museum, which was also an important original exhibition. This is also an exhibition held in the central area of Shanghai, and its influence is quite large.
In the Jinshan area, we recently held the "Jinshan in Ancient Maps" to talk about the historical changes of Jinshan from the perspective of the map. Previously, we held "Shanghai Archaeology Starts Here", which was also a commemorative special exhibition for the 30th anniversary of the Jinshan Museum. In addition, we have also held original exhibitions such as "Ten Thousand Plum Blossoms - Jinshan and Nanshe". In cooperation with the library of Luoyang Teachers College, an exhibition of rubbings was made to display rubbings of epitaphs from the Tang Dynasty.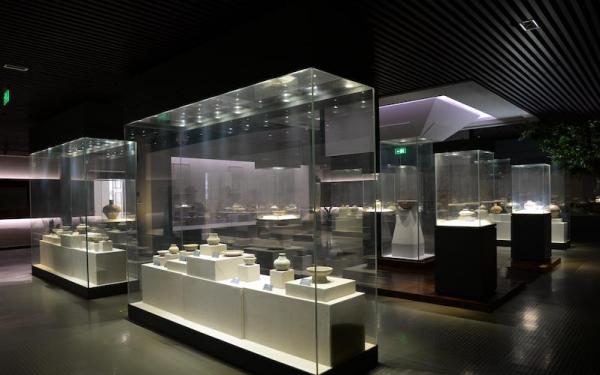 Jinshan Museum Exhibition Hall
In addition, we also help the grassroots, and provide some assistance in grassroots towns, including some units and schools. For example, we held a special exhibition about Tinglin Town for Tinglin Town.
We do a lot of original exhibitions, because we promote the concept of all-staff curation in the museum, so the colleagues in charge of research in the museum have independently undertaken the task of writing outlines. This also shows that we pay more attention to the construction of the talent team.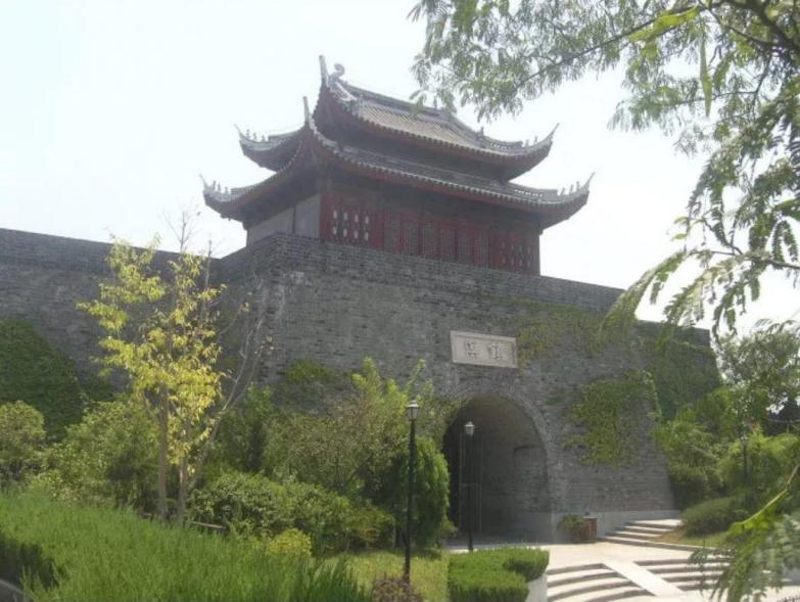 Today's Jinshan Guard City Wall
On the other hand, we are committed to exploring the historical and cultural heritage of Jinshan, from the original exhibition to the original exhibition hall. In fact, Jinshan Museum is a museum cluster, including Jinshan Museum, Baijiao Art Museum, Former Residence of Zhu Xuefan, Shanghai Nanshe Memorial Hall, Jinshanwei Anti-Japanese War Site Memorial Park, Jinshan Planning Exhibition Center, and Jinshan Intangible Cultural Heritage Protection Center. These points form a cluster.
The former residence of Zhu Xuefan was not operated and managed by us in the past. With the original exhibitions we have done in the past few years, as well as the achievements and influence of bringing original exhibitions into the urban area, the district decided to hand over the former residence of Zhu Xuefan to our management. Our re-planning and exhibition of Zhu Xuefan's former residence is based on the research results of researchers, and we did not invite the research strength of universities and experts. From the exhibition to the landing of the exhibition hall, it is our achievement in the past few years. Another feature is that in recent years, we have tried to tell the story of Jinshan and the story of local history and culture. We tell the story through Jinshan Museum's official account "Jin Xiaobo". "Jin Xiaobo" is our team of researchers. We will post an original tweet about Jinshan every week, about 2,000 to 3,000 words, and we have persisted for many years.
"Architecture can be read" experience of making model of Sudai Bridge
What it illustrates is the transformation that our museum is facing, we are not only a researcher, but also a storyteller. This transformation means that researchers who are good at writing academic articles on Wanziwen should start writing popular science articles suitable for fragmented reading. At the same time, we launched the video account of the museum this year. This is another transformation we are facing, from thousands of words of popular science text to hundreds of words of script text, and finally transforming text into video presentation. This is also our continuous transformation and development according to the needs of this era, and it is also our measure to actively face the times.
The third point I want to talk about is museum education. The sustainable development of the museum is actually inseparable from the support of the community. Including the vision of the museum, I think it is also necessary to expand the understanding of local history and culture, the feeling and understanding of the excellent traditional Chinese culture, and then form a love for the hometown and the country.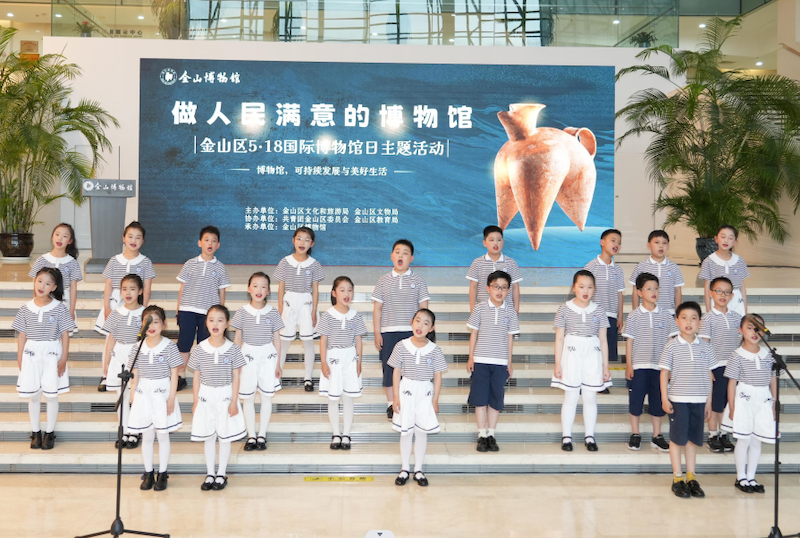 Jinbo red scarf "little commentator" immersive scene interpretation
Over the years, we have also been committed to strengthening the interaction between museums and schools. On May 18 this year, we will launch the first batch of "Museum Educational Resource Packs", which is to send the exhibitions, lectures, and popular science we have done to schools. As we've grown, we've actually developed a contingent of cadres -- lecturers -- who can deliver courses into schools. We have also developed some social education courses, such as architectural reading summer camp, model making of Huayan Pagoda, ancient ship model making, etc. These activities are also expanding our influence, especially the education of the next generation and the education of young people. We have many venues, and the schools he contacts are different for each venue. We have 5 city-level loving education bases, so we also have the need for a three-kilometer cultural service circle. But compared to the past, we want to reorganize and integrate. Museums are nothing more than going out, please come in. After inviting the child in, what can you give him? And go out, what can you go out with? Our flagship products are our research, exhibitions and lectures. In fact, this is our specialty. We want to do a more systematic sorting out, and then we can extrapolate.
Zhu Wen, deputy curator of Jiading Museum: Deeply cultivate local culture and develop professionally
We have concluded that there are three treasures in Jiading Museum, one is Jiading Bamboo Carvings, the other is our special imperial examination collection, and the other is Jiading Confucian Temple. Jiading Confucian Temple is the only national-level cultural relic protection unit in Jiading. Jiading Confucian Temple is about to undergo a major repair, and its repair has now entered the countdown.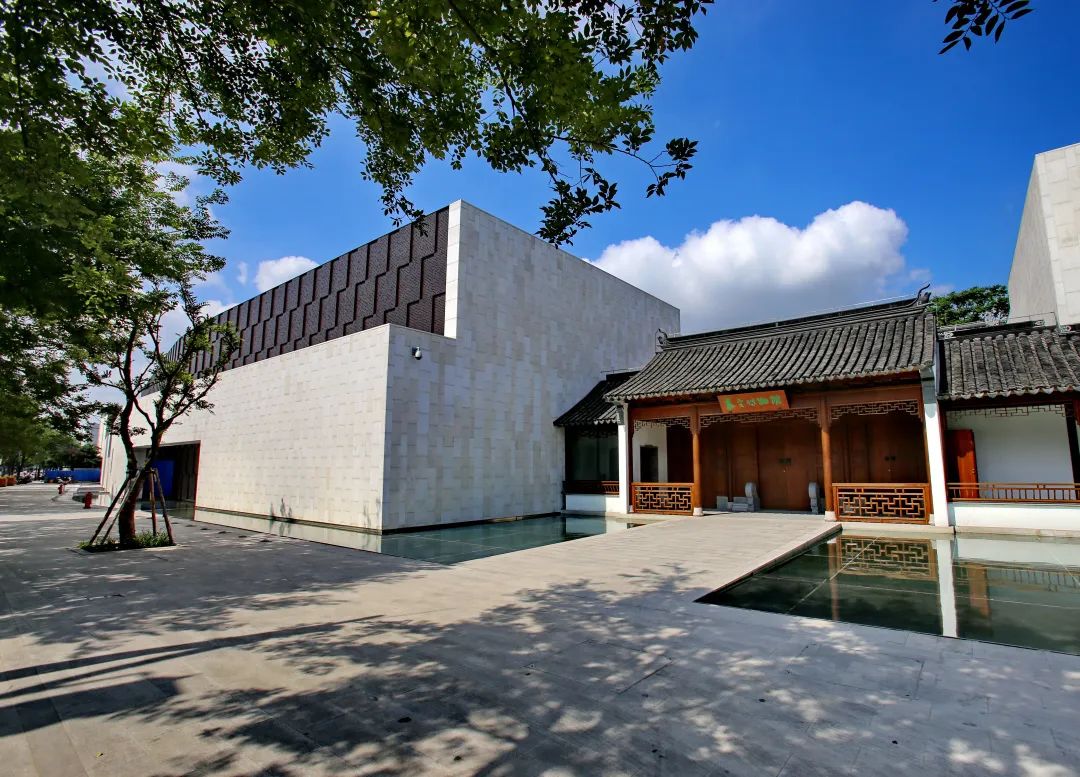 Jiading Museum
We have limited resources and limited funds. It is impossible to do a phenomenal exhibition like the Shanghai Expo. So we changed our perspective and adjusted our thinking, thinking that we still need to dig deep into our local cultural resources.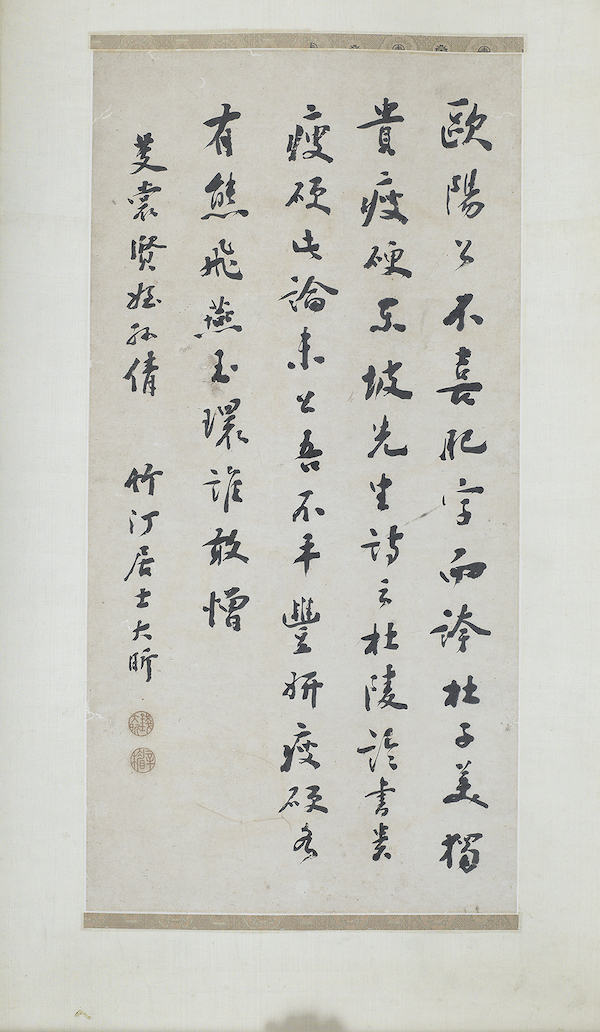 "A Generation of Confucianism - Qian Daxin Memorial Exhibition" Qing Dynasty "Qian Daxin Running Script Axis" Collection of Jiading Museum
The original exhibitions we have planned in recent years include "A Generation of Confucianism - Qian Daxin Memorial Exhibition", which is an exhibition of Jiading Museum based on the discovery of local cultural celebrities in Jiading; and "Ximen Family - History and Humanities of West Street Theme Exhibition", West Street is a style protection area of our Jiading, which carries the historical memory and deep feelings of many Jiading people. As the most prominent and eye-catching cultural business card of Jiading's local culture, Jiading bamboo carving is a culture that we continue to dig deeper. City Immortals: Jiading Bamboo Carving Exhibition of Ming and Qing Dynasties" two bamboo carving exhibitions have a great influence in the Jiading bamboo carving circle. The "Oracle Bone Inscriptions Memory Exhibition" currently being held is our annual original exhibition this year. In fact, it was basically finalized with the National Library of China two years ago. Due to the impact of the epidemic, it has not been exhibited until now.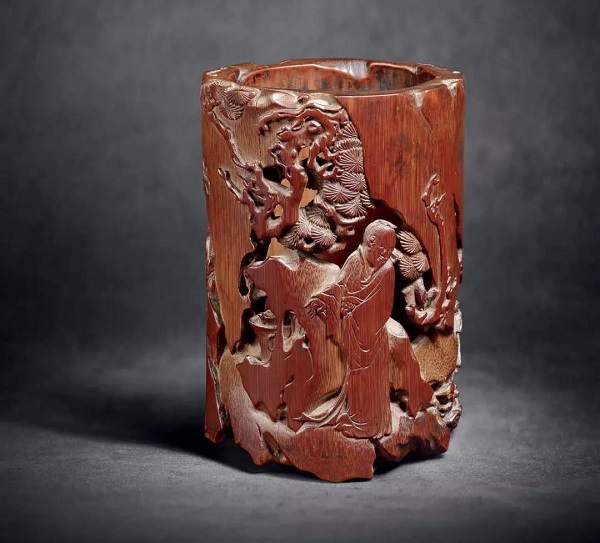 "Bamboo Edge Ingenuity - Jiading Bamboo Carving Collection Exhibition in Ming and Qing Dynasties" Ming Zhu Sansong Bamboo Carving Gaoshi Listening to the Spring and Cooking Tea Picture Pen Holder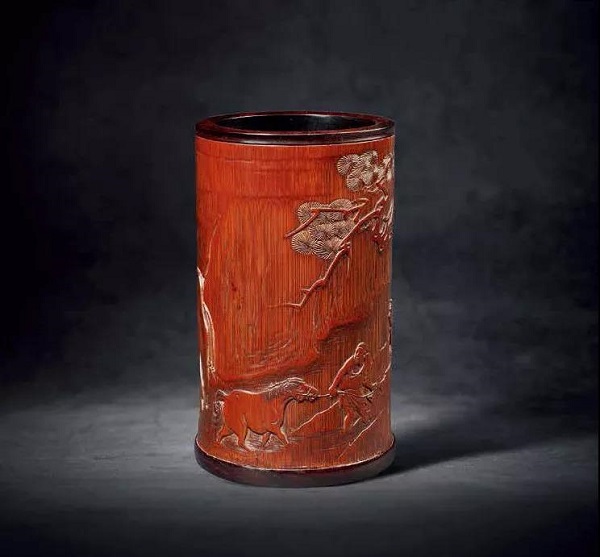 Early Qing Dynasty Wu Zhifan Bamboo Carved Pine Shade Bathing Horse Picture Pen Holder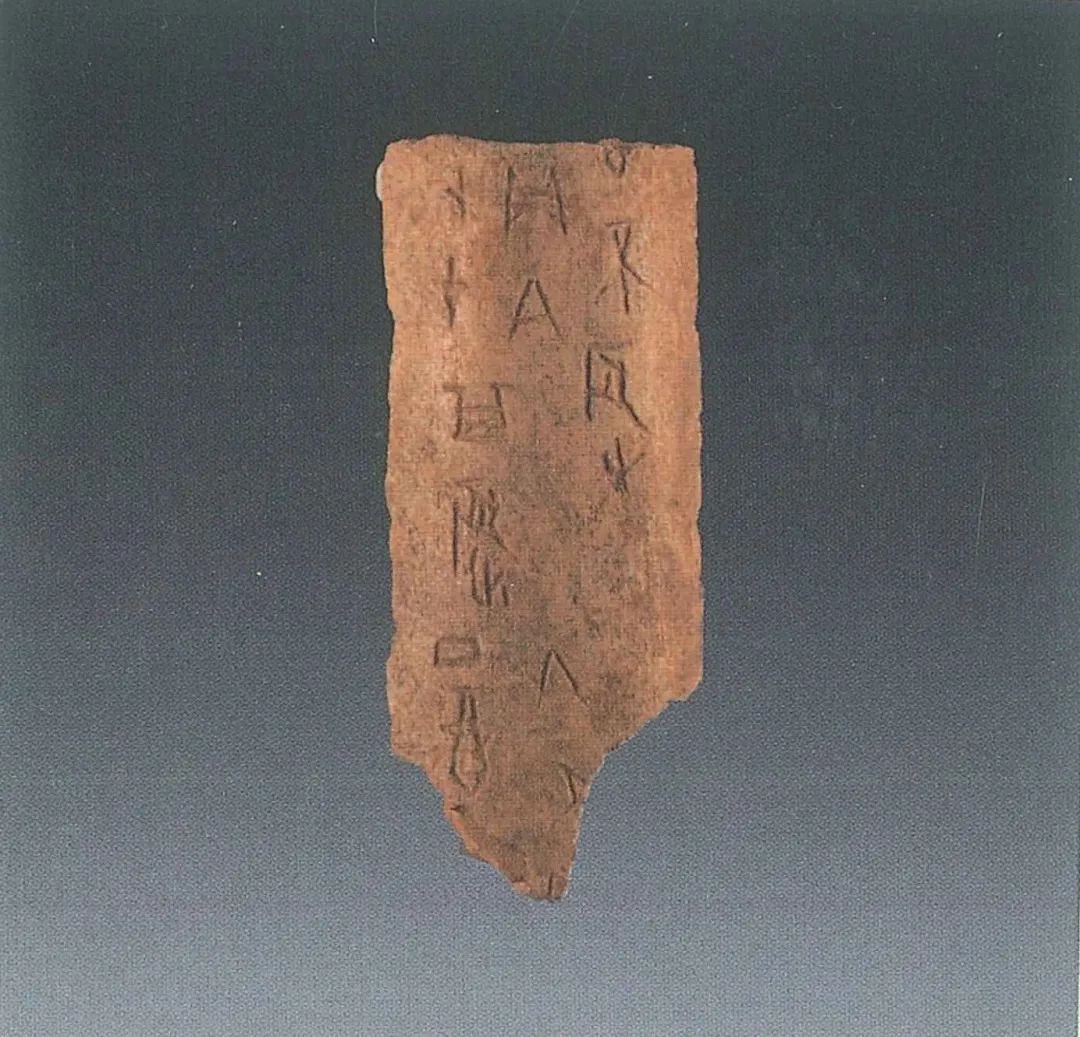 "Oracle Bone Inscriptions Memory Exhibition"
At present, the Confucian Temple in Jiading is about to close for overhaul, and Fahua Tower, another landmark in Jiading, is also undergoing renovation recently. We intend to plan another themed exhibition on Fahua Tower. Some cultural relics were unearthed in Fahuata Tiangong and Digong, and now they are mainly collected in Shanghai Museum. In 2019, on the 60th anniversary of the establishment of the Jiading Museum and the 800th anniversary of the establishment of the Jiading Confucian Temple, we and the Shanghai Museum co-organized the "Traces of the City-Jiading Unearthed Cultural Relics Exhibition". . We are coordinating the loan exhibition of the Shanghai Expo, making the cultural relics more systematic and comprehensive, and making the content more three-dimensional.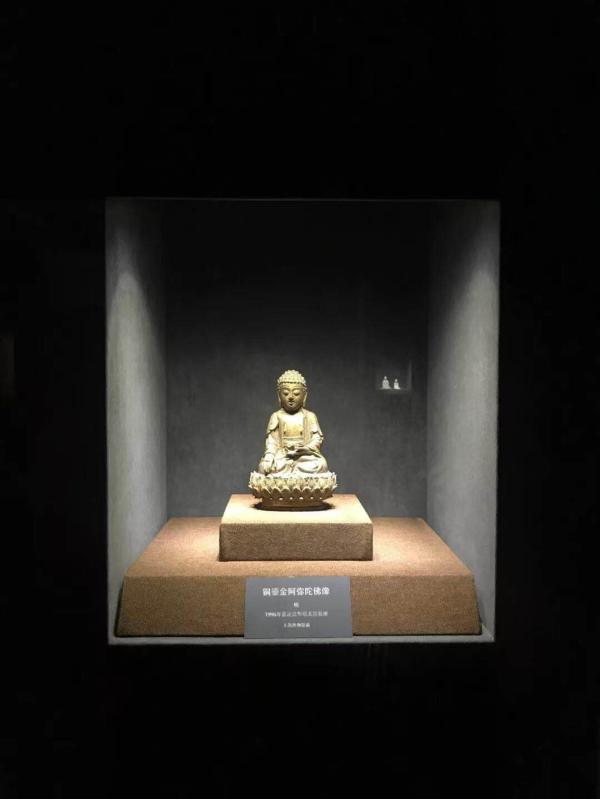 "Traces of the City—Exhibition of Unearthed Cultural Relics from Jiading" Ming Bronze Gilt Amitabha Buddha Statue Shanghai Museum Collection 1996 Jiading Fahua Tower Tiangong Discovered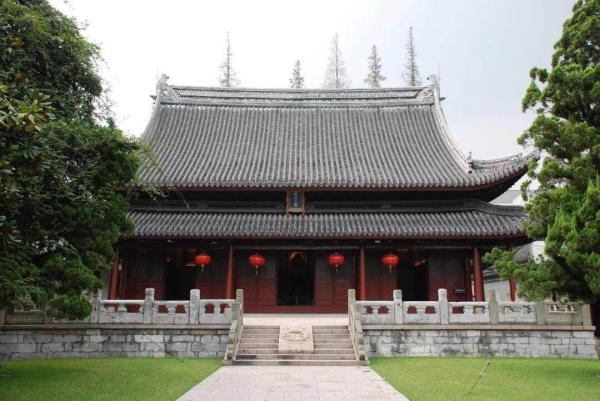 Jiading Confucian Temple
Our museum basically holds 5-7 temporary exhibitions every year, among which there will be 1-2 original exhibitions. Our exhibition mainly has two parts, one is original exhibition and the other is introduction. An original exhibition that has been finalized this year is the themed exhibition on "Autumn Sunshine Garden". Around the theme of Qiuxia Garden, some historical documents, calligraphy and paintings in the collection and remains of gold and stone are exhibited; there is also a boutique exhibition on ethnic minorities , because we and Chuxiong were built with counterparts, this exhibition will show the customs of ethnic minorities. In the past few years, we have done exhibitions such as the Nuo exhibition in Guizhou and the clothing exhibition of the Miao nationality. In terms of the theme of the exhibition, we try our best to consider diversification.
We are more proficient in making some small cuts and localized exhibitions. What we have done in the past few years is to cultivate our local cultural characteristics, refine our own professional development, and do a good job in our exhibitions, publicity and education under this premise . It may be limited in various aspects, but we still need to strengthen our own brand and make our own characteristics. This may be the best way to improve our own visibility.
We rank among the top museums in downtown Shanghai with the highest number of visits throughout the year. Before the epidemic, our highest number of visits in the whole year reached more than 1.2 million, because we have 4 venues. Even under the circumstances of the epidemic, our annual visit volume can probably be maintained at 800,000. There is a ranking list of social influence index in the Shanghai area. Before that, our social influence ranking ranked first in the district and county museums. In recent years, because Fengxian and Minhang have built new museums, the momentum has suddenly picked up, and our visibility has declined.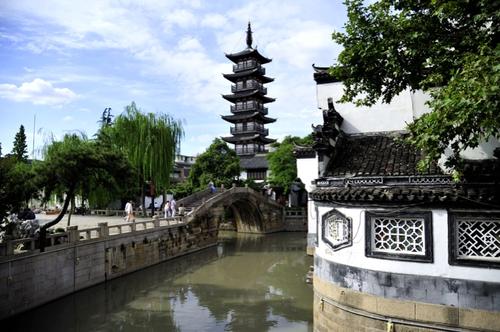 Fahua Tower
Our buildings mainly include Jiading Museum, Jiading Confucian Temple and Fahua Pagoda. Last year we implemented one tower and three halls. The "one tower" refers to Jiading Fahua Tower, and the "three halls" are the Gu Weijun Exhibition Hall, Hu Juewen Life Exhibition Hall and the newly integrated Jiading Bamboo Carving Museum located in the courtyard of the Fahua Tower. Now we are called Fahua Tower Courtyard, which is an exhibition area under us.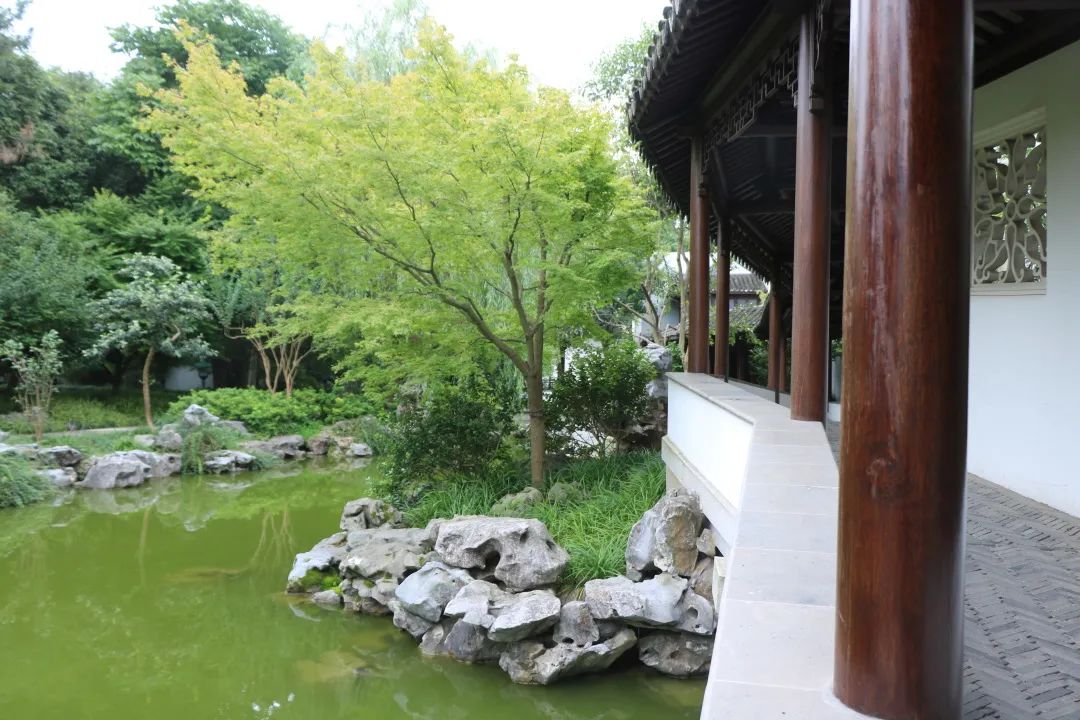 Jiading Museum
The Qiuxia Garden is a classical garden with a history of more than 500 years next door to us. When we built the museum in 2013, we opened the wall between the Qiuxia Garden and our museum, so we borrowed part of the Qiuxia Garden. Last year, in order to further integrate cultural and tourism resources, complement each other's advantages, and realize "integration of museums and gardens", we opened up the partition wall and set it as the third exit of Qiuxia Garden. After visiting the Qiuxia Garden, citizens can directly enter the Jiading Museum through this place. The "integration of museums and gardens" is also an important measure of our District Culture and Tourism Bureau to strengthen the integration of culture and tourism and benefit the people.
Peng Yefeng, Curator of Dong Qichang Painting and Calligraphy Art Museum: Exploring Dong Qichang's Value
Songjiang, Shanghai, a region in the south of the Yangtze River, has always had a prosperous literary style and a large number of talented people. There have been many famous calligraphy and painting masters and theorists in the history of ancient Chinese painting and calligraphy, among which Dong Qichang has undoubtedly attracted the most attention since the Ming and Qing Dynasties. The idea of "Zonglun" calligraphy and painting has directly influenced the development direction of Chinese painting art for more than 400 years since the Ming and Qing Dynasties, and has also become an important foundation for the development of modern Jiangnan culture and Shanghai style culture.
Since its opening, the Dong Qichang Painting and Calligraphy Art Museum has focused on sorting out, researching, and displaying Dong Qichang's calligraphy art achievements, taking into account the sorting out of the Songjiang School of Painting and the Yunjian Calligraphy School, and the study of Songjiang Prefecture culture as a supplementary academic orientation. At the same time, we are also an important platform for the research, display and promotion of contemporary Songjiang calligraphy and painting art.
"Today people don't see the moon in ancient times, but this month has illuminated the ancients." Dong Qichang summed up the past art history 400 years ago and opened up a new stage. We should not only inherit its art, but also inherit the spirit of inheritance and innovation. Our research and display of Dong Qichang and ancient calligraphy and painting art is not only to study the ancient classics clearly, but also to use the past to open up the present and explore Dong Qichang's new value in the contemporary era, hoping to truly generate new influences and new inspirations in the contemporary era.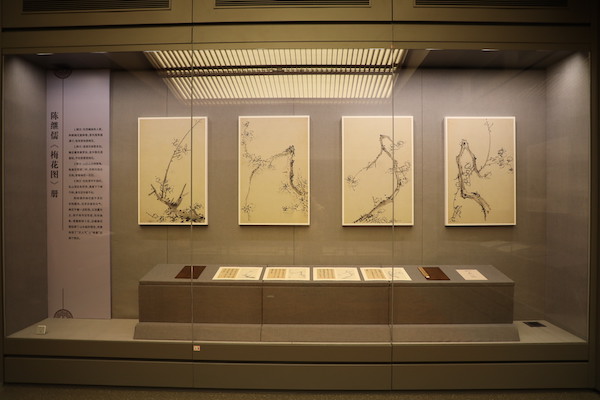 "Three Friends in the Clouds, Elegant Paintings"——Dong Qichang, Chen Jiru, Mo Shilong Calligraphy and Painting Art Special Exhibition Exhibition Site
In recent years, our series of exhibition planning has also been carried out around the positioning of our museum. For example, the opening exhibition in cooperation with the Shanghai Museum in 2018 focused on exhibiting 30 sets of authentic works of Dong Qichang, Yunjian Calligraphy School, and Songjiang Painting School; The 2020 "Three Friends Among the Clouds, Elegant Paintings"——Dong Qichang, Chen Jiru, and Mo Shilong Calligraphy and Painting Art Special Exhibition presents 12 authentic works collected by the Shanghai Museum, including Mo Shilong's "Landscape Map" and Dong Qichang's "Fishing Boat" Poems "Page, Chen Jiru, Dong Qichang's "Mist Village Map, Immortal Altar" calligraphy and painting volume, etc.; in 2022, "Reading Thousands of Books, Traveling Thousands of Miles-Dong Qichang's Landscape Painting Special Exhibition" exhibited 5 groups of Dong Qichang's authentic works from the Shanghai Museum. It condenses Dong Qichang's artistic growth process, including the rare "Mountain Dwelling Picture" that is recognized as his early work, and paintings in the middle, late and mature stages of art.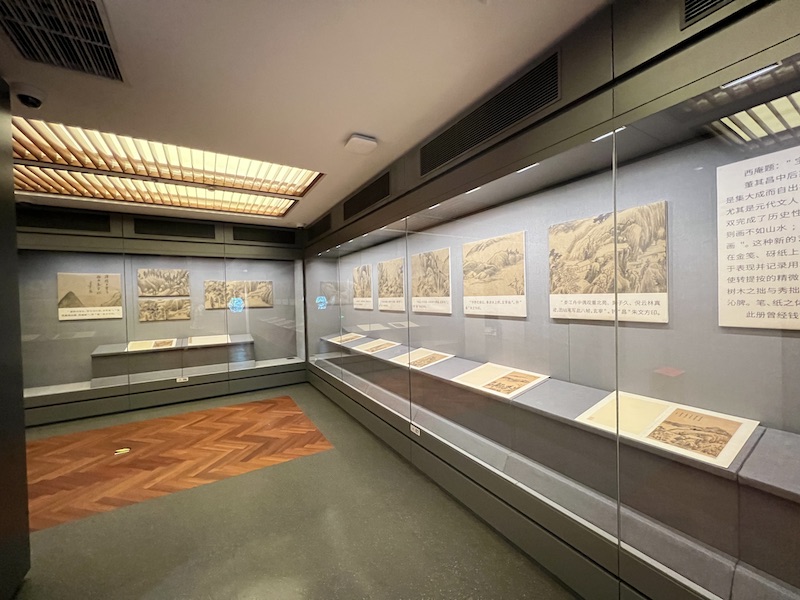 "Reading Thousands of Books, Traveling Thousands of Miles——Special Exhibition of Dong Qichang's Landscape Paintings" exhibition site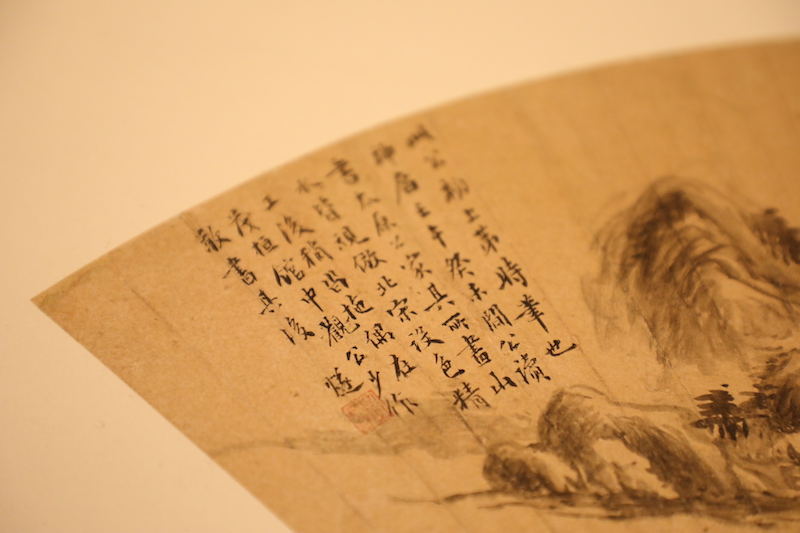 Dong Qichang "Mountain Dwelling Picture Fan Page" (partial) Shanghai Museum Collection
Basically, we only do one exhibition of authentic ancient paintings and calligraphy every year. Whether it is the selection of exhibits or the curatorial ideas, our positioning is relatively academic. Continuing this planning idea, we will continue to launch a special art exhibition with the theme of "Yunjian Calligraphy School" this fall, showing the thousand-year history of Yunjian Calligraphy School.
Of course, as a district-level museum, shortcomings are common in the planning and exhibition process. Take our museum as an example, less staffing and relatively weak academic strength are obvious defects. However, with the strong support of the district committee and the district government, we have maintained a close cooperation with the Shanghai Museum, Shanghai University, East China Normal University and other universities and colleges of fine arts over the past few years. At the same time, we are also constantly expanding other channels for inter-museum cooperation, including our close contact with the Palace Museum and museums in other provinces and cities.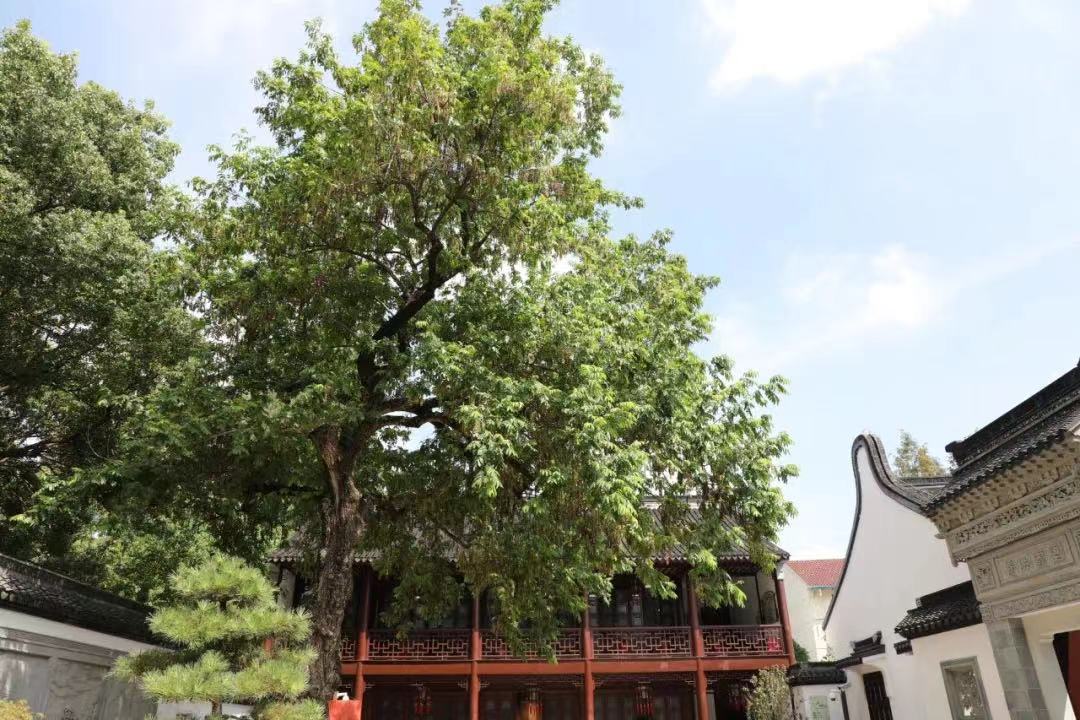 Dong Qichang Painting and Calligraphy Art Museum
As a celebrity-themed museum that has only opened for a few years, the weakness of the collection is a reality we have to face during the curation process. On the one hand, we are actively seeking cooperation with other cultural relic collection preservation units, such as Shanghai Museum and Songjiang Museum, to obtain relatively stable cultural relic collection support for high-quality exhibition projects through commercial loans. On the other hand, in the future planning of museums, more of our work will be devoted to research and organization. For example, we set up the column of "Voices from Beyond Mysteries" to organize the basic information of these collections by appreciating and analyzing Dong Qichang's works, including its collection, size, age, seal, inscription, etc., so as to establish a Dong Qichang's database center, I think this is what we can do.
We will not rule out cooperation with many "eye-catching" Internet celebrity special exhibitions in the future. I think as long as it can be matched with our main research line, I think there is no problem. Of course, in terms of our own positioning, we still hope to do some sorting, research and planning related to Songjiang culture in a down-to-earth manner. , show the work.