In Shanghai, where the competition for various cultural museums and art exhibitions is extremely fierce, in addition to the Shanghai Museum and various professional museums positioned to build the world's top art museums, the district and county museums in Shanghai have also made people shine in recent years: The Jiading Museum and Songjiang Museum built in the 1950s, or the newly opened Fengxian Museum and the new Minhang Museum in recent years, have either spared no effort to excavate and salvage the local cultural context, or adopted the "bringing doctrine" based on Exhibitions of cultural relics imported from a broad cultural perspective have their own characteristics. However, it is undeniable that the development of district and county museums in Shanghai is also uneven, and there are some current situations such as insufficient collections and weak academic curatorial strength.
Today is "5.18 International Museum Day". The theme of this year's International Museum Day is "Museums, Sustainability and a Better Life". The "Museums, Keeping the Beautiful" column launched by "The Paper·Ancient Art" will focus on the development and current situation of museums in various districts and counties in Shanghai in two parts.
Among the district and county museums in Shanghai, the Jiading Museum, the Songjiang Museum, and the Qingpu District Museum started relatively early in the 1950s, and the development of museums in other districts and counties did not start early. The advantage of starting late is to catch up with the construction of new venues, which are among the best in the country in terms of venue hardware conditions. For example, in 2015, the Jinshan Museum moved to a new building; in 2019, the new buildings of Fengxian Museum and Minhang Museum were completed and opened one after another, and they frequently went out of the circle due to several sensational exhibitions held in succession; Jiading Museum, etc. It has long been the leader in the array of district and county museums across the country. It has always been based on local culture and has spared no effort to discover and salvage the local culture.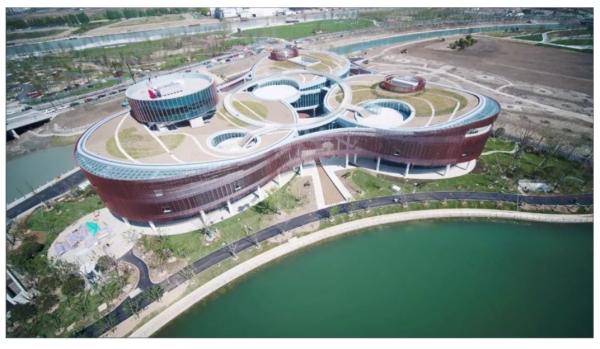 Photo by Fang Guozheng, New Building of Fengxian Museum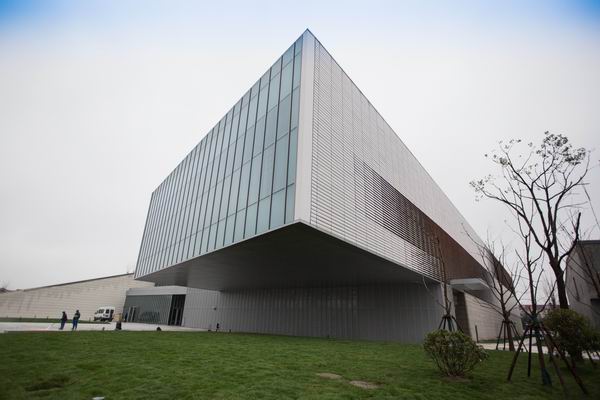 Minhang Museum in Qibao
"Mawangdui Exhibition" with more than 100,000 visitors, small halls can also hold large exhibitions
The cherry blossoms are shaded, and the gray bricks are elegant. The Minhang Museum's Han culture and history themed exhibition "Han Promise-Changsha Mawangdui Cultural Relics Exhibition" was launched in March this year. More than 3,000 visitors visited every day, and the exhibition hall was crowded with people.
Bright as new lacquerware, soft silk, silk books and silk paintings (replicas) that record the wisdom of the sages, and video interpretation under multimedia technology... For the famous Mawangdui cultural relics in Changsha, Hunan, audiences in Shanghai can enjoy it at their doorstep. Appreciate the civilization of the Western Han Dynasty two thousand years ago. When the exhibition closed on May 3, it had attracted 132,000 visitors, not bad for a district-level museum in Shanghai.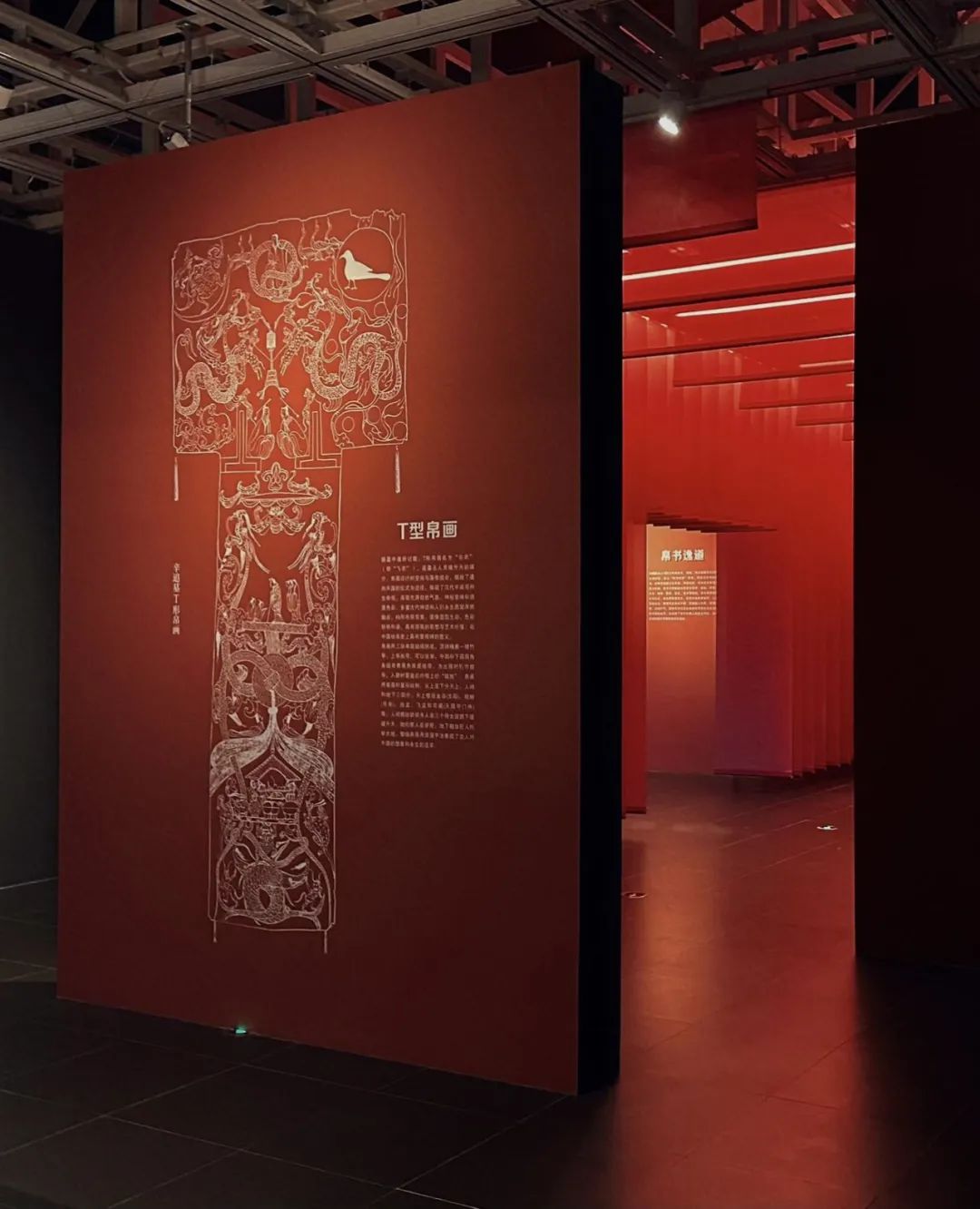 Minhang Museum "Han·Wuji—Changsha Mawangdui Cultural Relics Exhibition" exhibition site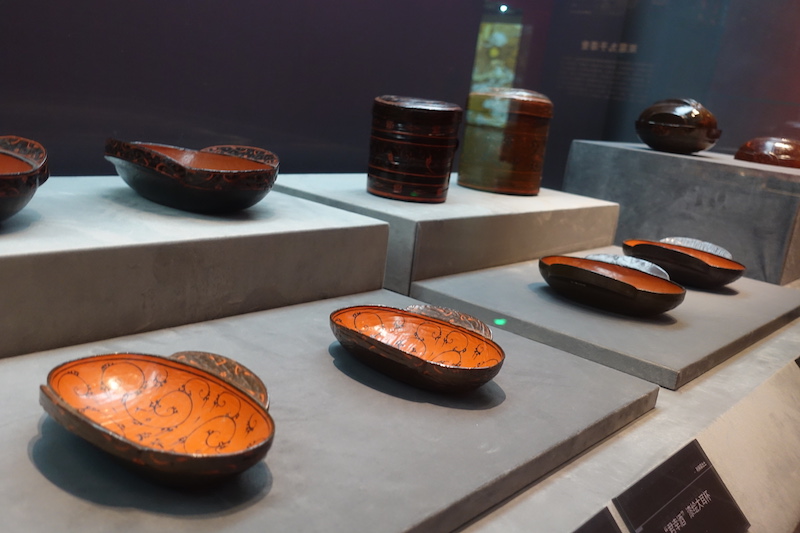 Minhang Museum "Han·Wuji—Changsha Mawangdui Cultural Relics Exhibition" exhibition site
The "level" of the Minhang District Museum is not high, and the "qualification" is not deep. Compared with the Jiading Museum, which has a long history, the Minhang Museum only started construction in 2002 and officially opened in 2003. Since the opening of the new museum in 2019, several archaeological and cultural relics exhibitions have been held successively, which has set off a wave of exhibition booms, and has become a very popular "Internet celebrity museum" among Shanghai district and county museums.
Similar to the problems faced by most district and county museums, the collections of Minhang Museum itself are not rich, let alone top-notch, mainly exhibits of cultural relics and folk customs unearthed in Minhang District. "We have been thinking about how to maximize our strengths and avoid our weaknesses, and hold high-quality exhibitions that the public and audience will love." The relevant person in charge of the Minhang Museum told The Paper.
The direction they finally chose for the temporary exhibition was "creating an overview of China's excellent history and culture in the Minhang Museum". Although they are all introductions, relying on the historical and cultural themes with their own traffic and topics, it has transformed from an obscure district and county museum into a frequent "Internet celebrity museum" in the past two years. This wave of loan exhibitions began in July 2022 with the "Happy Living in Chang'an-Chang'an Life Exhibition in the Tang Capital". More than 130 sets of exhibits are all borrowed from the Xi'an Museum, connecting the various life styles of Chang'an in the prosperous Tang Dynasty. Since then, the Minhang Museum has successively launched exhibitions such as "Return of the Prosperous Age-Special Exhibition of Returned Cultural Relics from Overseas", "Han Wuji-Changsha Mawangdui Cultural Relics Exhibition" and other exhibitions. With the optimization and adjustment of prevention and control measures, the last two temporary The number of visitors to the exhibition is also rising steadily, with the number of visitors reaching 110,000 and 132,000 respectively.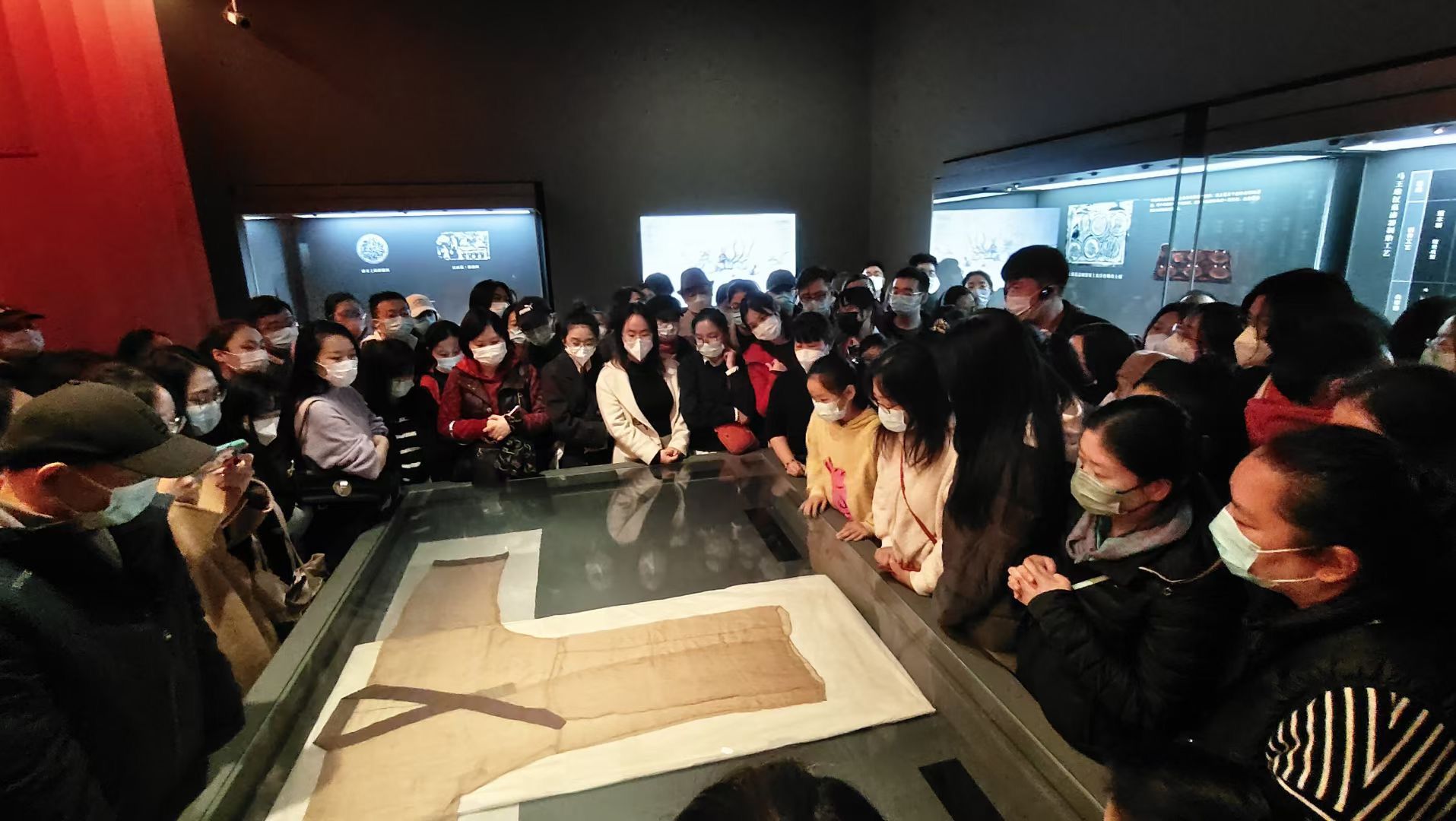 "Han·Wuji—Changsha Mawangdui Cultural Relics Exhibition" attracted many people to check in
On the list of subsequent exhibition plans, Minhang Museum also plans to launch the Western Han Dynasty Haihunhou Tomb Exhibition, the Ordos Grassland Civilization Exhibition, and the Ming Tombs Cultural Relics Exhibition, etc.
"We hope to follow the development of Chinese history, and make these influential cultural themes with their own flow, so that the audience can see China's magnificent historical and cultural narratives at their doorstep." The relevant person in charge of the Minhang Museum told The Paper, "After all, audiences may not go to many places, so we introduce these exhibitions and use cultural relics to tell Chinese stories."
Some people in the cultural circles also told The Paper that museum exhibitions basically follow two lines. One is to introduce better exhibitions so that everyone can have the opportunity to see these best exhibitions at their doorstep; the other is to plan some new exhibitions on their own initiative. , that is, original exhibitions, which require relatively high curatorial ability of the team. As a museum, if the core is imported exhibitions, it may still be applicable at a certain stage of the museum's development. As the public's cognitive ability strengthens, such exhibitions will gradually lose their appeal. "Behind the progress of introduction is the huge financial support at the district level. If this piece of support is lost, it may be unsustainable." A person in the cultural and museum circles said.
The introduction of progress is not a simple "bringing doctrine"
Also as a "rising star" in the district and county museums in Shanghai, Zhang Xuesong, director of Shanghai Fengxian District Museum, has been extremely busy recently, meeting one after another. In addition to the approaching of the 5.18 International Museum Day, it is also because the annual original exhibition "Danjiaqingwen-Chinese Character Cultural Relics Essence Exhibition" they planned this year has entered the 8-day countdown.
Quite similar to the Minhang Museum, since the opening of the new Fengxian District Museum in 2019, its temporary exhibitions have also focused on Chinese traditional cultural boutique exhibitions. For example, its first exhibition in 2019 - "Yongzheng Palace Museum Cultural Relics Exhibition" is the largest number of Yongzheng cultural relics in the Forbidden City so far; The Cultural Relics Exhibition was a sensation, and the audience in the urban area did not hesitate to drive 40 to 50 kilometers to Fengxian to view the exhibition. As a result, the exhibition has been "hard to get an appointment". Ming Concubine Jewelry Boutique Exhibition", "The Promise of the Sky-Shaanxi Zhou, Qin, Han and Tang Cultural Relics Exhibition" and other temporary exhibitions.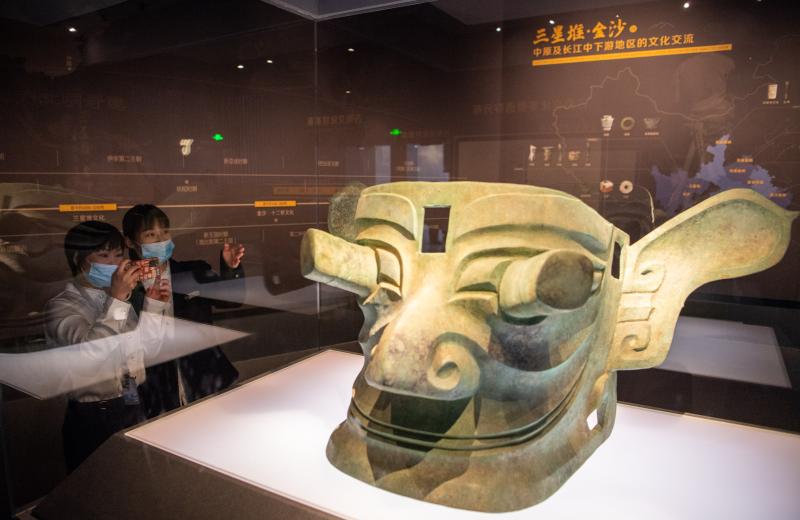 "The Light of Ancient Shu—Exhibition of Unearthed Cultural Relics from Sanxingdui·Jinsha Site" held by Fengxian District Museum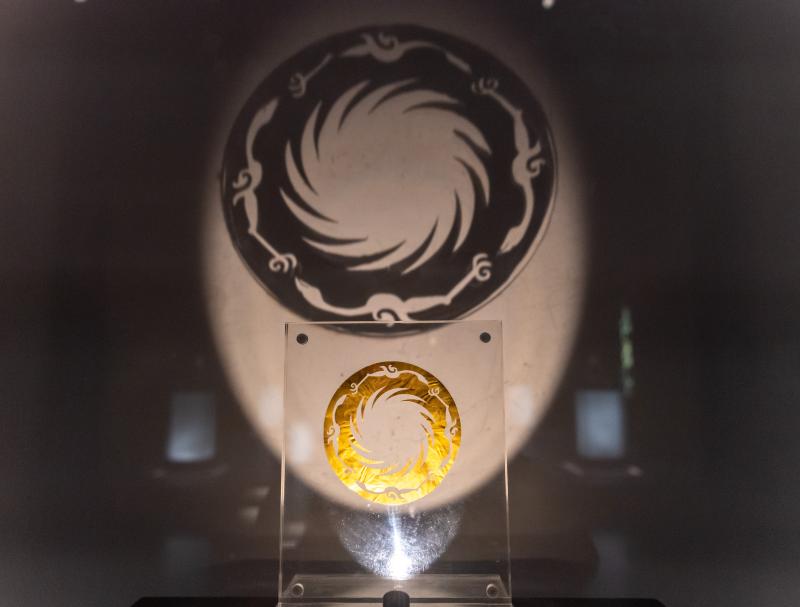 "The Light of Ancient Shu—Exhibition of Cultural Relics Unearthed from Sanxingdui·Jinsha Site" exhibition site
"Over the past few years, we have held the exhibition based on the idea of doing a good job in the exhibition seriously and telling the Chinese story carefully." Zhang Xuesong told The Paper. "Since the opening of the new museum, we have held many cultural relics exhibitions that appeal to both refined and popular tastes and have relatively large cultural attributes, which are deeply loved by the audience."
"Although these temporary exhibitions are mainly about introductions, we are not simply 'importing'. Many of them have the color of original exhibitions, which have been planned and academically sorted out by ourselves." Zhang Xuesong said, for example, " Yongzheng Cultural Relics Exhibition", the Palace Museum has not held a large exhibition of porcelain from the Yongzheng period before, they are equivalent to reorganizing the Yongzheng cultural relics; Incision, sort out the relationship between Sanxingdui and Jinsha Site.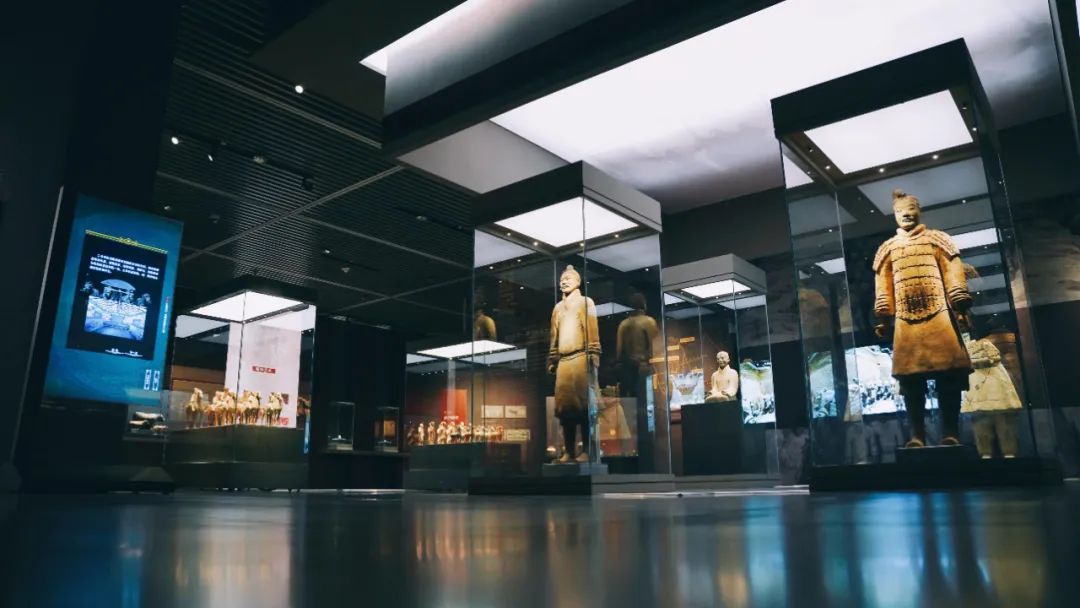 Previously held by the Fengxian District Museum, the scene of the exhibition hall of "The Promise of the Sky-Shaanxi Zhou, Qin, Han and Tang Cultural Relics Exhibition"
The upcoming "Danjia Qingwen-Exhibition of the Essence of Chinese Characters and Cultural Relics" is a step further in the exhibition planning, and it is an original exhibition independently planned by the museum. The exhibition brings together more than 180 cultural relics from 26 museums in 10 provinces and cities across the country, which is a big step forward for Fengxian District Museum in original exhibition planning.
Pan Shouyong, a museum scholar and distinguished professor of Shanghai University, told The Paper, "As a district and county-level museum, with limited collection resources and human resources, it is still a very big challenge to independently exhibit original exhibitions." The curatorial ability of museums is usually relatively weak, and there are certain difficulties in the creativity of exhibitions, academic research, staffing, and mobilizing the cultural relics resources of so many cultural institutions across the country. Pan Shouyong is also the honorary curator of the Liye Qin Bamboo Slips Museum. This time, the Liye Qin Bamboo Slips Museum also has several cultural relics in the Fengxian Museum's Chinese character-themed exhibition.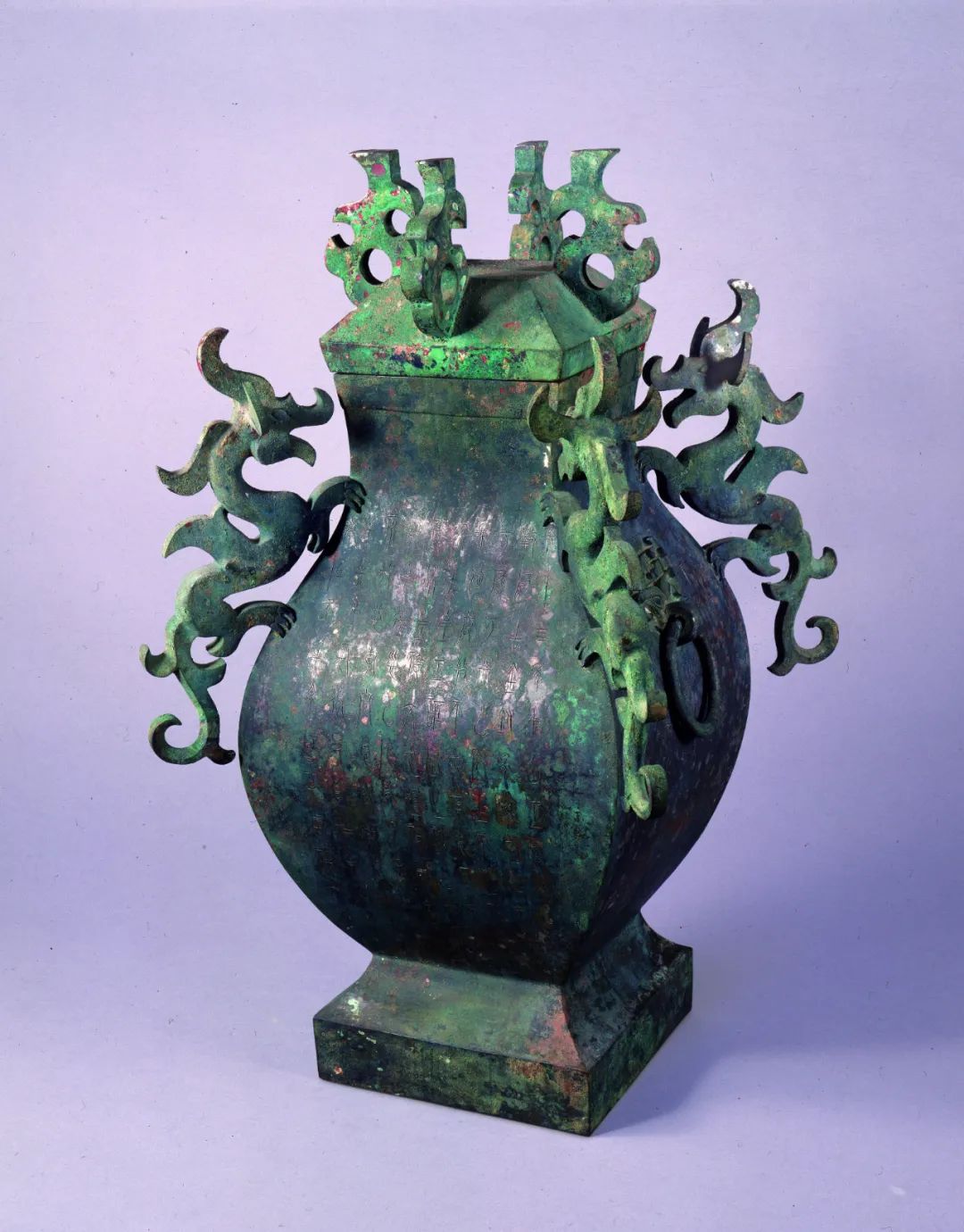 Zhongshan Wangcuo Inscribed Copper Square Pot with Dragon Decoration
According to Pan Shouyong, among the exhibits in this exhibition, a Zhongshan Wangcuo inscribed bronze ware known as one of the "Three Vessels of Zhongshan" will be unveiled. In my impression, it has not been exhibited for more than ten years. The director of the Tourism Bureau personally went to Hebei to borrow the exhibition, which also reflects from the side that it is not easy for the district and county museums to organize original cultural relics exhibitions. "When negotiating to borrow exhibitions, the director told them that the audience in the Yangtze River Delta region, especially in Shanghai, is quite picky, and it may not be suitable to show them replicas, so I hope they can borrow the originals." It is precisely because of this sentence. The words touched the other party, and finally borrowed the original.
Zhang Xuesong mentioned that for Fengxian Museum, their advantage is that the leaders of the district committee and district government are very concerned about the entire museum project, which is their strong backing, and the common disadvantage of the district and county museums is that there are few collection resources. It is definitely not as good as the Shanghai Museum, which has more than 1 million collections. You can slowly study and plan, and you can also exchange exhibitions with other museums.
"As a regional and local comprehensive museum, we can't be compared in terms of resources, but we can make use of our strengths and avoid weaknesses, communicate more with other museums, introduce more good resources, set up a good platform, and do a good job of planning, which can also attract Many visitors come to us to share the wonderful space of the museum."
"An exhibition with a small cut and a localized perspective"
Also as an annual original exhibition, Jiading Museum's "Memory of Oracle Bone Inscriptions" based on China's excellent traditional culture is currently on display. The exhibition was jointly planned and held by Jiading Museum and the National Library (National Museum of Classics). It was originally planned to be exhibited two years ago, but it has been delayed due to the epidemic. Zhu Wen, deputy curator of Jiading Museum, said frankly that planning an original exhibition like "Oracle Bone Inscriptions Memory" is already the maximum they can mobilize in all aspects of resources.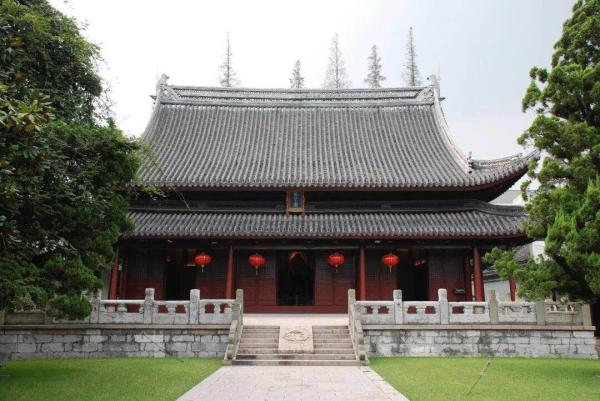 Jiading Confucian Temple
With a history of more than 60 years, the Jiading Museum is located in the old city of Jiading, which is rich in humanities in history. It has a solid foundation and has always been the leader in the array of district and county museums across the country. Under its jurisdiction are Jiading Confucian Temple, a national key cultural relic protection unit, Fahua Tower, a Shanghai cultural relic protection unit, and Jiading Bamboo Carving Museum. The basic exhibitions include Jiading's history exhibition and collection of cultural relics; there are also imperial examination exhibitions in Jiading Confucian Temple, exhibition of Gu Weijun, a famous modern diplomat in Jiading Fahua Tower courtyard, exhibition of Hu Juewen's life and deeds, and Jiading Bamboo Carving Exhibition in Jiading Bamboo Carving Museum . Looking back in the past two years, due to the rise of county museums in Shanghai and other provinces, cities, and counties, the visibility of Jiading Museum has declined slightly.
"Our resources are limited, and funds are also limited. It is impossible to do a phenomenal exhibition like this one at Shanghai Bo, so we changed our perspective and adjusted our thinking, thinking that we still need to dig deep into our local cultural resources. " Zhu Wen said.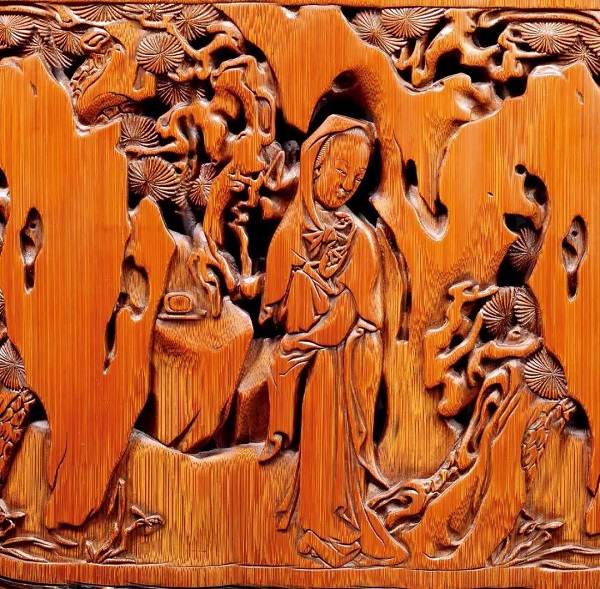 Bamboo Carved Matsushita Ladies Picture Incense Tube (Partial)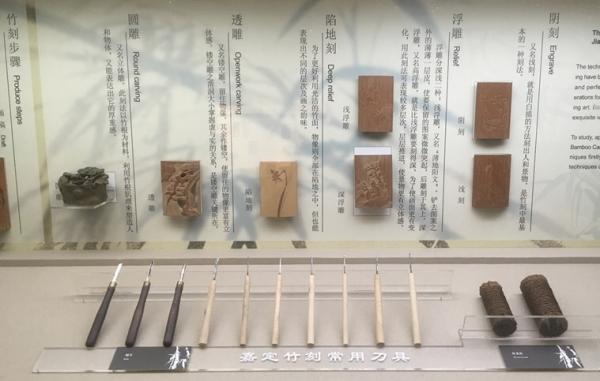 Bamboo carving techniques and tools exhibited in Jiading Museum
In recent years, Jiading Museum has curated original exhibitions with both word-of-mouth and academic quality, such as "A Generation of Confucianism-Qian Daxin Memorial Exhibition", which is an exhibition based on the discovery of local cultural celebrities in Jiading; The most prominent and eye-catching cultural business card of Jiading's local culture is also a culture that we continue to dig deeper into. Jiading Bamboo Carving Exhibition of Ming and Qing Dynasties" two bamboo carving exhibitions.
At present, the Confucian Temple in Jiading is about to be closed for overhaul. Fahua Tower, another landmark in Jiading, is also undergoing renovations recently. Zhu Wen revealed that they intend to hold a themed exhibition on Fahua Tower, bringing together the cultural relics unearthed from the Heavenly Palace and the Underground Palace of Fahuata. exhibit together.
"We have no way to do some exhibitions with macro narratives. We are better at doing some exhibitions with small incisions and localized perspectives. What we have done in the past few years is to cultivate our local cultural characteristics and refine our own professional development." Zhu Wen said. , "We still need to strengthen our own brand and make our own characteristics. This may be the best way to improve our own visibility."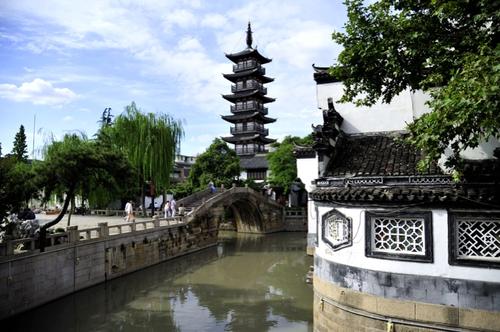 Fahua Tower
How to truly salvage and present the local context
Qingpu District Museum, Songjiang Museum, Dong Qichang Painting and Calligraphy Art Museum, etc. have also done a good job in cultivating local cultural characteristics and salvaging local context.
Qingpu District in Shanghai is a typical water town in the south of the Yangtze River and an important town on the Maritime Silk Road. It has a profound historical and cultural heritage and rich underground cultural relics. It is the most concentrated area of archaeological sites in Shanghai, and archaeological excavations have achieved significant results. In 2021, the Qingpu Songze site in Shanghai was also selected as one of the "Top 100 Archaeological Discoveries in a Century". "Based on the history and humanities of Qingpu, inheriting ancient culture and promoting water culture is the academic orientation of our museum, and the exhibition planning of Qingpu Museum in recent years is also based on this." Wang Hui, curator of Qingpu District Museum, said.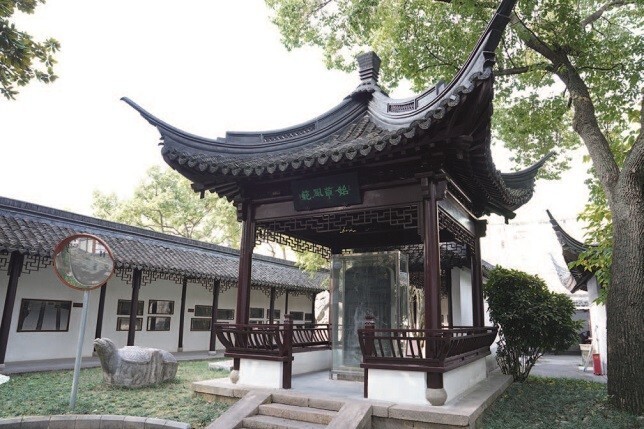 Songjiang Museum Stele Pavilion
In 2018, the Qingpu Museum successfully organized the "Mountains of High Moon - A Special Exhibition of the Ren Renfa Family in Qingpu in the Yuan Dynasty" to excavate and promote local cultural celebrities; "Shanshui Painting Exhibition" details the life of Cao Zhibai, a native Shanghai painter, especially focusing on Cao Zhibai's calligraphy and paintings and elegant collections, depicting the cultural scene of the Shanghai area in the Yuan Dynasty where celebrities came out in large numbers and scholars talked and laughed.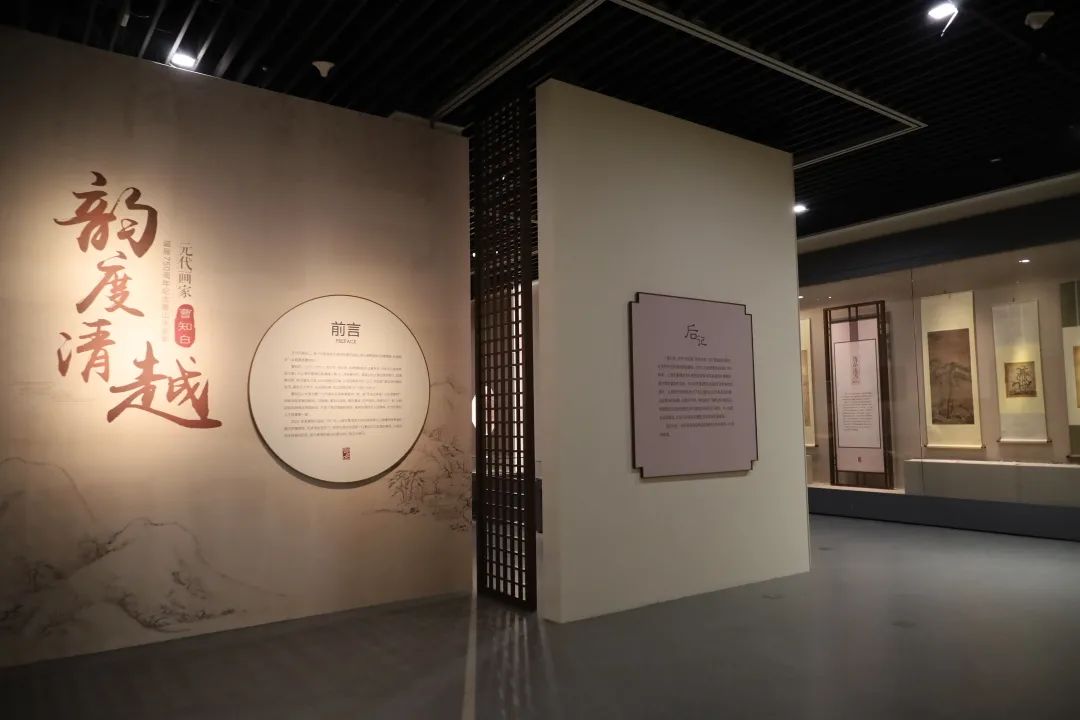 Site of Qingpu Museum's "Ching Yue - Yuan Dynasty Painter Cao Zhibai's 750th Birthday Commemoration and Landscape Painting Exhibition"
"Cool Evening Greenery Picture" exhibited in "Yuandu Qingyue--The 750th Anniversary of Yuan Dynasty Painter Cao Zhibai's Birth and Landscape Painting Exhibition", ink and wash on silk, photo courtesy of Shanghai Museum
Songjiang is the root of Shanghai culture and has many historical sites. As a comprehensive local museum, Songjiang Museum mainly collects, collects, researches, displays and publicizes the history, culture and cultural relics of Songjiang area. of importance. The Songjiang Museum currently has a collection of more than 5,000 pieces. The cultural relics in the collection mainly include pottery, porcelain, jade, gold, silver, copper, wood, etc., and there are more than 2,000 sets (volumes) of ancient classics. In the stele pavilion of the museum, there is a national first-class cultural relic on display - "Songjiang Jijiu Zhang Stele", which is "the oldest and most complete", which can be called the treasure of the town hall. In terms of calligraphy and painting, the Songjiang Museum has made a lot of articles based on its collection in recent years. In addition to the basic display of the collection, the museum also holds special exhibitions from time to time to promote cultural exchanges between regions and revitalize the collection of cultural relics. Wang Xiaowei, deputy curator of the Songjiang Museum, previously introduced that in the first quarter of this year, the Songjiang Museum launched the "Ban Geng Genus - Modern Painting and Calligraphy Exhibition in the Museum of Songjiang District". A total of 57 pieces of modern calligraphy and painting works donated to each other by him and his friends, as well as related seals, ancient books and other cultural relics in the collection are exhibited. rhythm.
Exhibits of "Semi-cultivating Elegant Genus - Songjiang District Museum's Collection of Modern Paintings and Calligraphy Exhibition" exhibited by Songjiang Museum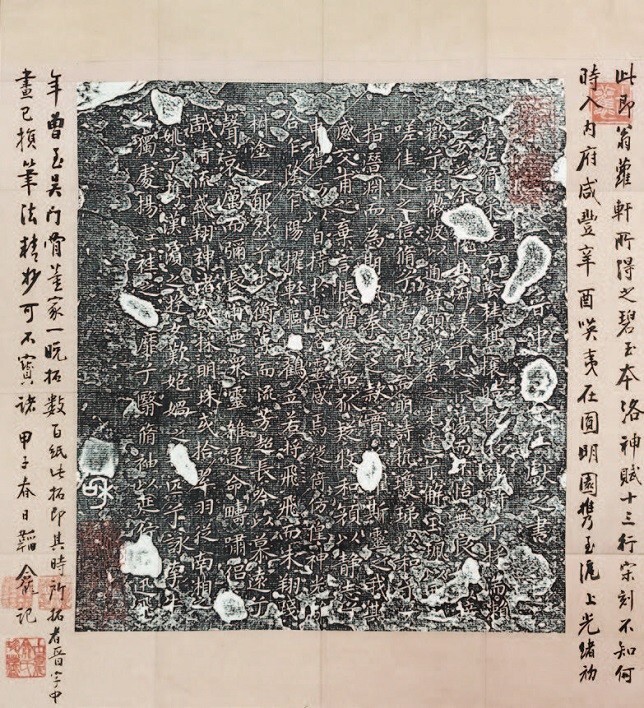 The jasper original Luoshen Fu thirteen lines engraved in Qing Dynasty in Song Dynasty.
Recently, in conjunction with the opening of the Songjiang Jiangnan Qusheng Memorial Hall and the publication of "Letters from Teachers and Friend Yu Sulu", the Songjiang Museum and the Songjiang Creation Research Institute for Humanities held "Into the Room of Pine and Snow - Exhibition of Ruler Letters and Graphite Traces of Yu Sulu's Teacher and Friend" on the second floor of the museum ". During the 5.18 International Museum Day, Songjiang Museum introduced "Beauty in Alxa—Art Exhibition of Rock Paintings and Juyan Han Bamboo Slips" from the Alxa Museum in Inner Mongolia, exhibiting more than 130 pieces of rock paintings, rubbings and Juyan Han Bamboo Slips.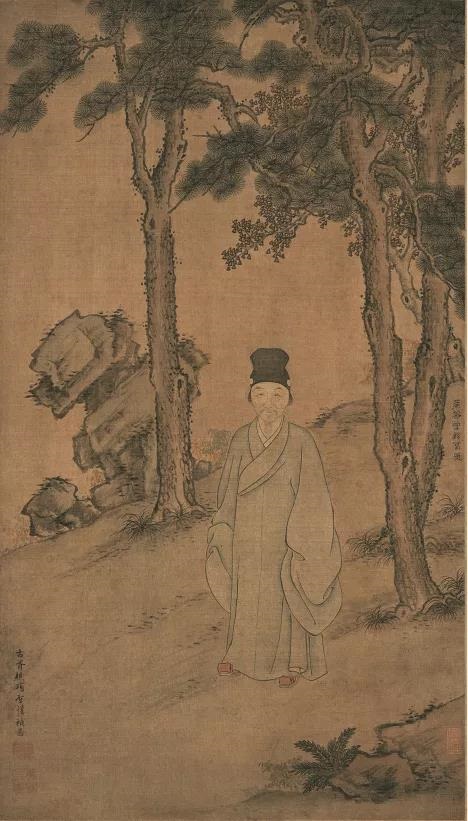 Small Portrait of Dong Qichang by Zeng Jing and Xiang Shengmo in the Ming Dynasty Collected by Shanghai Museum
Taking the Dong Qichang Painting and Calligraphy Art Museum in Songjiang as an example, since its opening in 2018, it has focused on organizing, researching, and displaying the achievements of Dong Qichang's calligraphy art, taking into account the organization of the Songjiang School of Painting and the Yunjian Calligraphy School, as well as the culture of Songjiang Prefecture. For example, in the opening exhibition in cooperation with the Shanghai Museum in 2018, 30 sets of authentic works of Dong Qichang, Yunjian Calligraphy School, and Songjiang Painting School were exhibited; Danqing—Special Exhibition of Calligraphy and Painting Art by Dong Qichang, Chen Jiru, and Mo Shilong" presents 12 authentic works collected by the Shanghai Museum, including Mo Shilong's "Landscape Map" booklet, Dong Qichang's "Fishing Boat" Poetry Book page, Chen Jiru, Dong Qichang's "Mist Village Map" In 2022, "Reading Thousands of Books, Traveling Thousands of Miles—Dong Qichang's Landscape Painting Special Exhibition" exhibited 5 groups of Dong Qichang's authentic works collected by the Shanghai Museum, which condensed Dong Qichang's artistic growth process, including rare "Mountain Dwelling", which is recognized as his early work, and paintings in the middle and late stages of art and mature period. "Basically, we only do one ancient painting and calligraphy exhibition every year. Whether in terms of the selection of exhibits or curatorial ideas, our positioning is relatively academic. Continuing with this planning idea, we will also Continue to launch the special art exhibition with the theme of "Yunjian Calligraphy School", showing the thousand-year context of Yunjian Calligraphy School." Peng Yefeng, curator of Shanghai Dong Qichang Painting and Calligraphy Art Museum, told The Paper.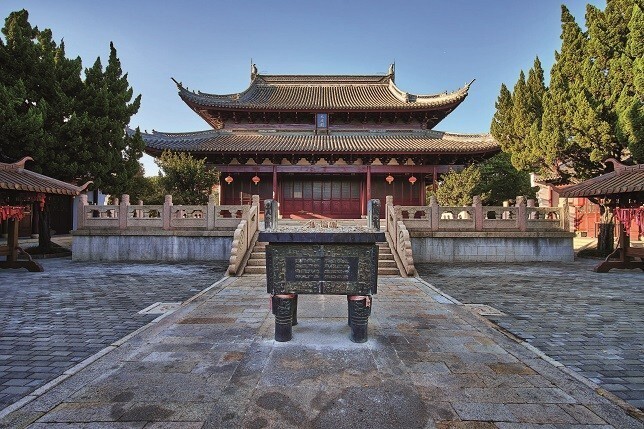 Chongming Academy, which has a history of nearly 400 years
The Chongming District Museum is also a comprehensive museum, and its site itself is the Chongming Academy, a cultural relic protection unit in Shanghai, which has a history of nearly 400 years. With the overall completion of the restoration project of the ancient buildings on the west axis of the Chongming Academy in the past few years, the Chongming District Museum has successively launched the "Guying Relics, Advocating Culture and Teaching", "Cultures Transform People, Determine to Rejuvenate the Nation" and "Waiwei Hundreds" Island, Cataracts and Three Wus" and other special exhibitions, as well as permanent exhibitions such as "Master of All Ages: Graphic Exhibition of Confucius' Life" and "Yingzhou Good Village".
How do district and county museums create their own characteristics
Weak academic strength and shortage of collections are common problems in district and county museums. So how can district and county museums make use of their own advantages, identify their positions, and develop their own characteristics?
Peng Yefeng, director of Shanghai Dong Qichang Painting and Calligraphy Art Museum, believes that in the process of curating, the weakness of the collection is a reality that has to be faced, "so in the future planning of the museum, we will focus more on research and organization. Sections. For example, the column of "Sounds from Beyond" we set up is to organize the basic information of these collections by appreciating Dong Qichang's works, including its collection, size, age, seal, inscription, etc., so as to establish Starting a database center of Dong Qichang, I think this is what we can do."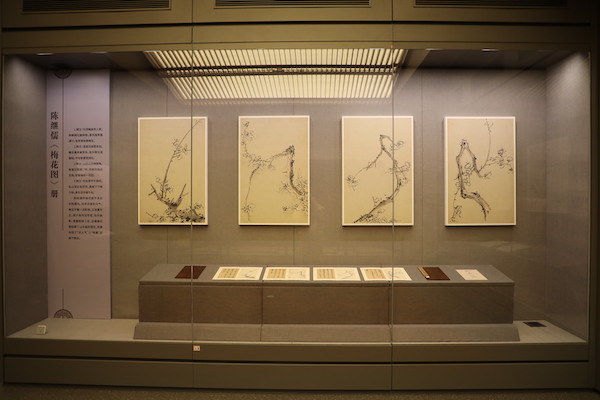 Shanghai Songjiang Dong Qichang Painting and Calligraphy Art Museum exhibition site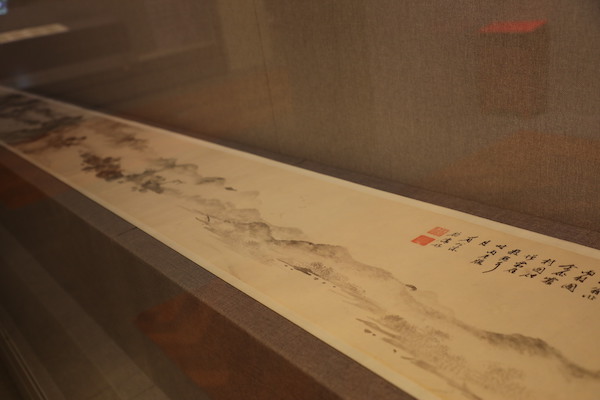 Chen Jiru and Dong Qichang's "Foggy Village Map, Immortal Altar Records Combination of Calligraphy and Painting" volume (partial)
Pan Shouyong mentioned in an interview with The Paper that except for Jiading Museum and Songjiang Museum, the district and county museums in Shanghai started relatively early, and many other districts started relatively late. The late start also has its advantages. After the construction of the new venue, the hardware conditions of the venue are among the top in the country. Furthermore, compared with museums of the same level, Shanghai district and county museums have obvious talent advantages. Most of them are masters or above, and their talent level may be higher than the world average.
Pan Shouyong said that the exhibition concept of many museums at present is mainly based on two lines, one is partial to ancient civilizations, and the most direct is the exhibition of fine archaeological discoveries. However, today's public demand for domestic archaeological boutique exhibitions, if there is no planning and improvement of a theme, its appeal will not be so strong, so museums still need to further consolidate the foundation and plan in-depth exhibitions. Second, he suggested that the historical and cultural resources in the Yangtze River Delta region can be further integrated and improved.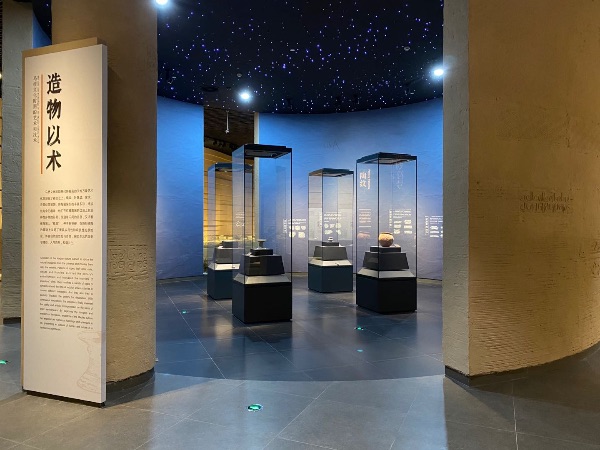 Permanent Exhibition Hall of Minhang Museum, Maqiao Cultural Exhibition
"Our district and county museums can also make some improvements based on the themes, urgency, and existing academic accumulation." Pan Shouyong said, for example, when the Grand Canal Museum was first established, it was worth learning and learning from in terms of annual exhibition planning. For example, every year there is a special exhibition of cultural relics selected into the World Cultural Heritage List. Last year, the Yongle Palace exhibition was held. The murals of the Yongle Palace are too important; this year's exhibition of the Potala Palace is also very good. The cultural relics of the Potala Palace have not left Tibet for about 10 years. "The temporary exhibitions of our district and county pavilions can be considered to be double-line or multi-line. This kind of exhibition planning trend can definitely be built into its own brand."
Cultural and museum experts suggest that district and county museums can strengthen linkages with the community. Just as the theme of this year's International Museum Day is "Museums, Sustainability and a Better Life", district and county museums are also central places that undertake public cultural service activities for citizens. "Museums may be open more than 300 days a year as venues, but their cultural It can be all-weather, how to connect with the local community, there can be many articles in it."