Nowhere in art has the male gaze been more exemplified than in the Renaissance nude, a bohemian style that was especially adept at by the likes of Titian and Bronzino. But "Fontana: Trailblazer, Rule Breaker," an exhibition opening at the National Gallery of Ireland in Dublin from May 6, proves that a Renaissance woman had a role in art. took the role of the male painter—and did it just as well.
Lavinia Fontana (1552-1614) was the seminal artist of her era, the first woman to run her own studio and the first to paint public altars and female nudes. The exhibition will explore Fontana's extraordinary life through her work, providing insight into the cultural climate that made her a woman artist.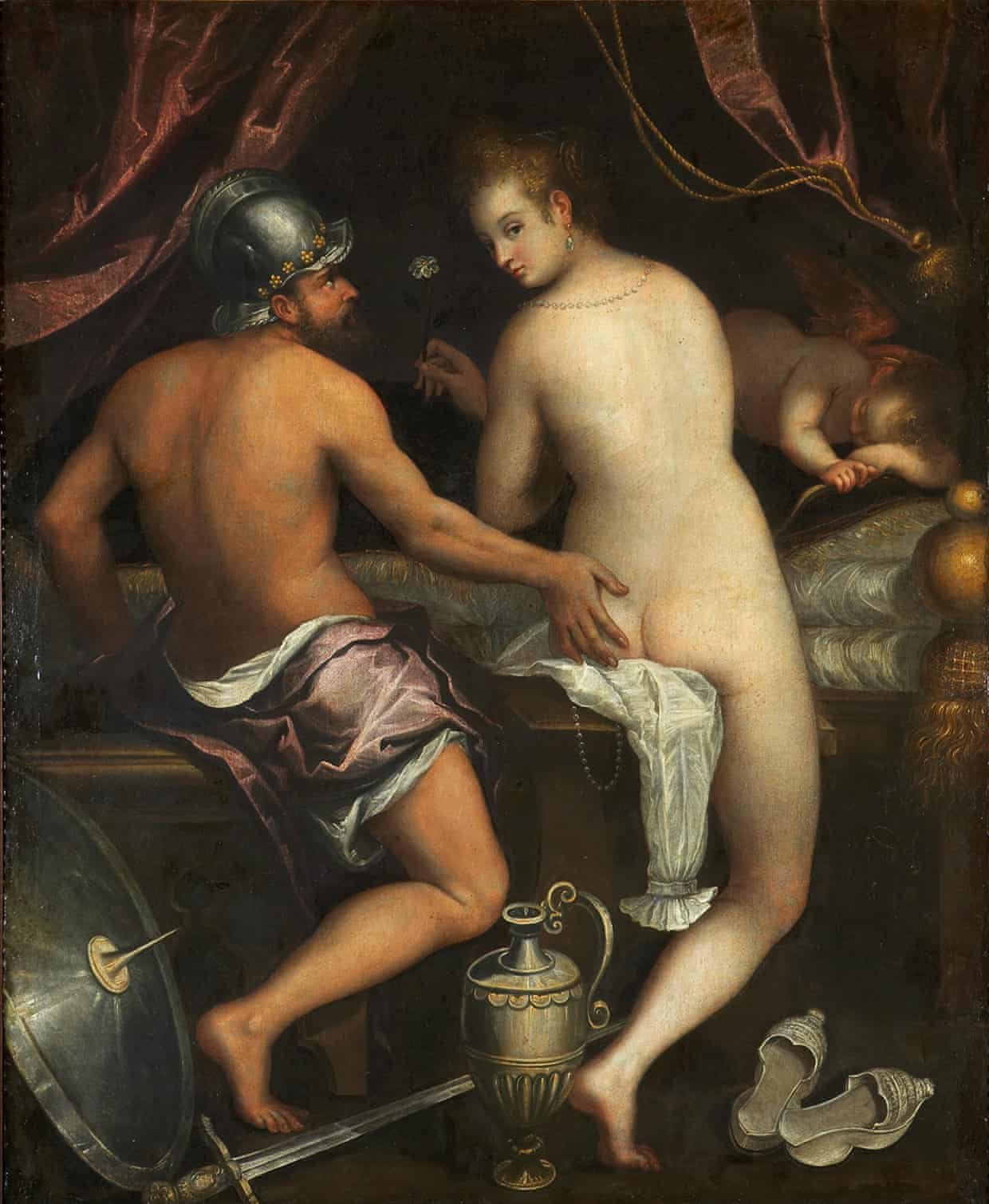 Fontana, Mars and Venus, 1595
Lavinia Fontana's nude work is so unprecedented that experts are arguing, even arguing about how she got her hands on the model. In the 16th century, it was rare for a woman to be an artist, and it was even more unheard of for her to work with nude models. But as Aoife Brady, curator of the Dublin exhibition, points out, she does have a unique access to nudity — herself. In Fontana's 1613 work "Minerva Dressing" (Minerva Dressing), the nude Minerva (the Roman goddess of wisdom, art, invention and martial arts) looks out of the picture, as if Looking in the mirror. The person in the painting looks the same as the artist's self-portrait in front of the mirror and wearing clothes.
Another work, Mars and Venus, depicts the love affair between the goddess of desire and the god of war with brazen intimacy. As they sit beside a bed hung with burgundy silk draperies, Venus turns her head and looks offscreen defiantly. Fontana painted the picture around 1595. Before her, no other female painter had painted nudes. Among other things, she set many other precedents, such as being the first female painter to support her family by selling her work and the first to be appointed to paint portraits of popes.
Born in Bologna in 1552, Fontana studied painting with her artist father, Prospero Fontana. In Europe at that time, the traditional workshop system was only open to male apprentices, and having artist parents was almost the only way for girls to learn art. In her teens, Giambologna (1529-1608) created his Fountain of Neptune, a sculpture that became a symbol of Bologna and still flows in the center of the city. There are four figures on the bottom of the sculpture, which seem to be the roles that women in the Renaissance hoped to be-wife and mother. Fontana gave birth to 11 children, most of whom died young. The multiple roles of Fontana show that Bologna is a city where women can pursue more.
"It's hard to say that Bologna is a woman's paradise, but women have more freedom than Florence," says Caroline Campbell, who was recently appointed director of the National Gallery of Ireland – the first to be given the title. The woman appointed was born in Belfast. Before that, she was responsible for Italian Renaissance art at the National Gallery in London. "Bologna was the perfect petri dish for Fontana's career," Brady added. "It's home to the oldest university in the world, awarding doctorates to female students as far back as the 13th century. The people of Bologna enjoy A certain amount of freedom also provides women artists with more opportunities than other cities."
Fontana was not the first woman to become a professional artist here; in Bologna in the early 16th century, the sculptor Properzia de 'Rossi was struggling to make her career. She is accused of assaulting a male opponent, throwing paint at him and scratching his eyes, according to court records. Fontana took a more traditional route: she bonded with elite Bologna families and became their favorite portraitist. Her friendships with high-society women are evident in her more than three-metre-wide history painting The Queen of Sheba Visits King Solomon, which Campbell called her "masterpiece". The Queen of Sheba pays homage to Solomon with an elegant courtesan, all dressed in Renaissance dress, with ruffled collars and ornate hairstyles. Some of them were looking straight at us, some were in arrogant or casual poses. Just as male painters from Veronese or Zoffany fill crowd scenes with their own male friends or celebrities, so Fontana joins her female friends in this spectacular scene.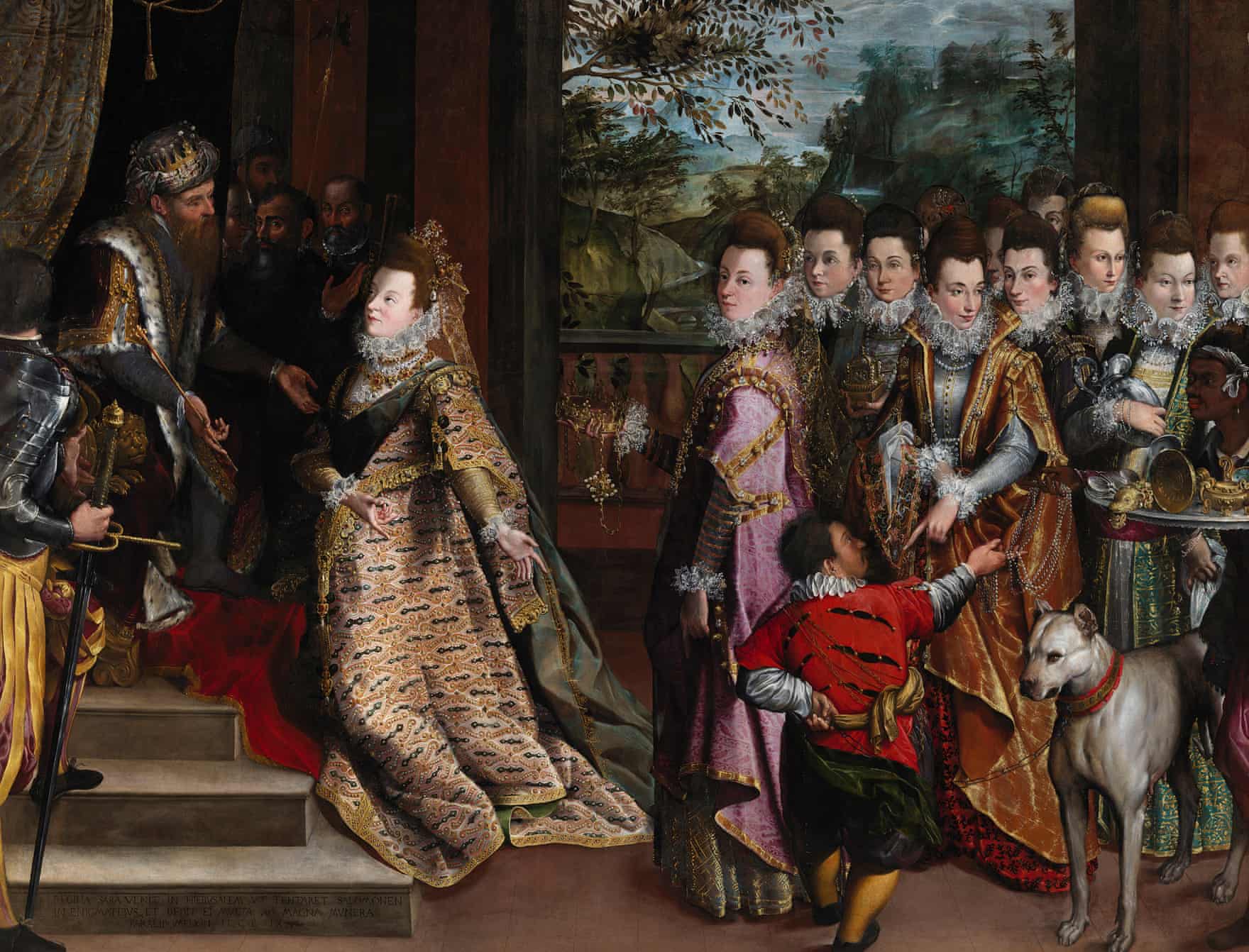 Fontana, The Queen of Sheba Visits King Solomon, 1599
"The Queen of Sheba Visits King Solomon" is the origin of the exhibition at the National Gallery of Ireland. "The Queen of Sheba Visits King Solomon" and the exquisite "Portrait of Prince Alexandria Farnese" by the Italian Cremona painter Sofonisba Anguissola (1532-1625) were previously in the Irish State It stands out prominently in the museum's permanent exhibitions. While other museums have rushed to improve the representation of women artists in their exhibitions, Dublin's Renaissance Gallery has been leading the way. Anguisola's work was part of the gallery's original collection of 112 paintings in 1864, although it was wrongly attributed to a man; The first work by a female artist to be acquired under the 1980s, it has been a part of Dublin culture ever since. "It's one of the most famous works in Dublin. Even if people don't remember the artist, they know the painting - they say: 'Oh yes, that's the painting, I saw it when I was a kid.'" Campbell Says, "So we think it's very important for people to know about Lavinia Fontana as an artist."
The exhibition is an eye-opening feast of portraits, myths, drawings, and how Fontana, as a true Renaissance woman, was at the artistic and intellectual forefront of her time.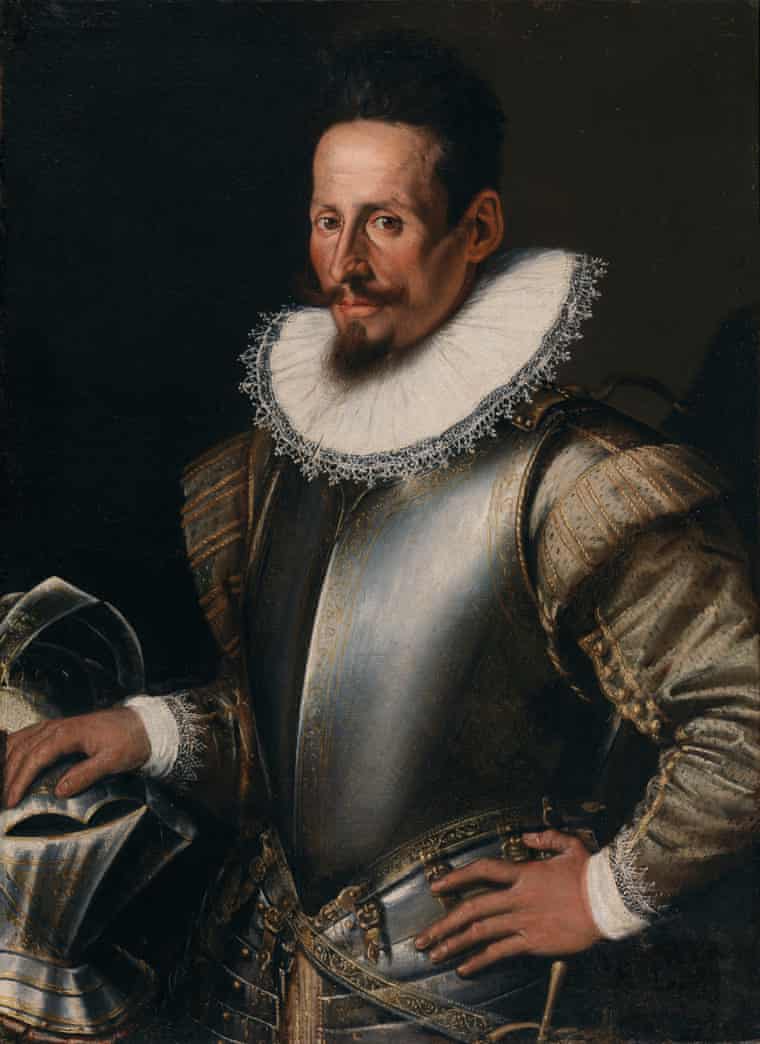 Fontana, Portrait of a Gentleman in Armor, late 1590s Fontana depicts men with equal intimacy
Her portraits are a magnificent artistic achievement in themselves. She has a keen eye for the uniqueness of human beings, keeping them alive on the canvas after all these years. An unknown lady in a chair looks at us calmly and knowingly: her consciousness is strongly felt in the tight ruff of her collar. Another woman catches your eye, gazing at you from brooding shadows. But Fontana also portrays men with equal intimacy, often having them sit at desks contemplating esoteric books—one is an astrologer, working on an esoteric tome.
She stands among these Renaissance men, displaying her wit and accomplishment. In a self-portrait, Fontana sits at the piano, showing off her musical skills, which, even in Jane Austen's novels, are still typical "achievement" of elite women. In her studio self-portraits, she does not emphasize etiquette, but presents herself as a professional artist, painting among her collection of figurines.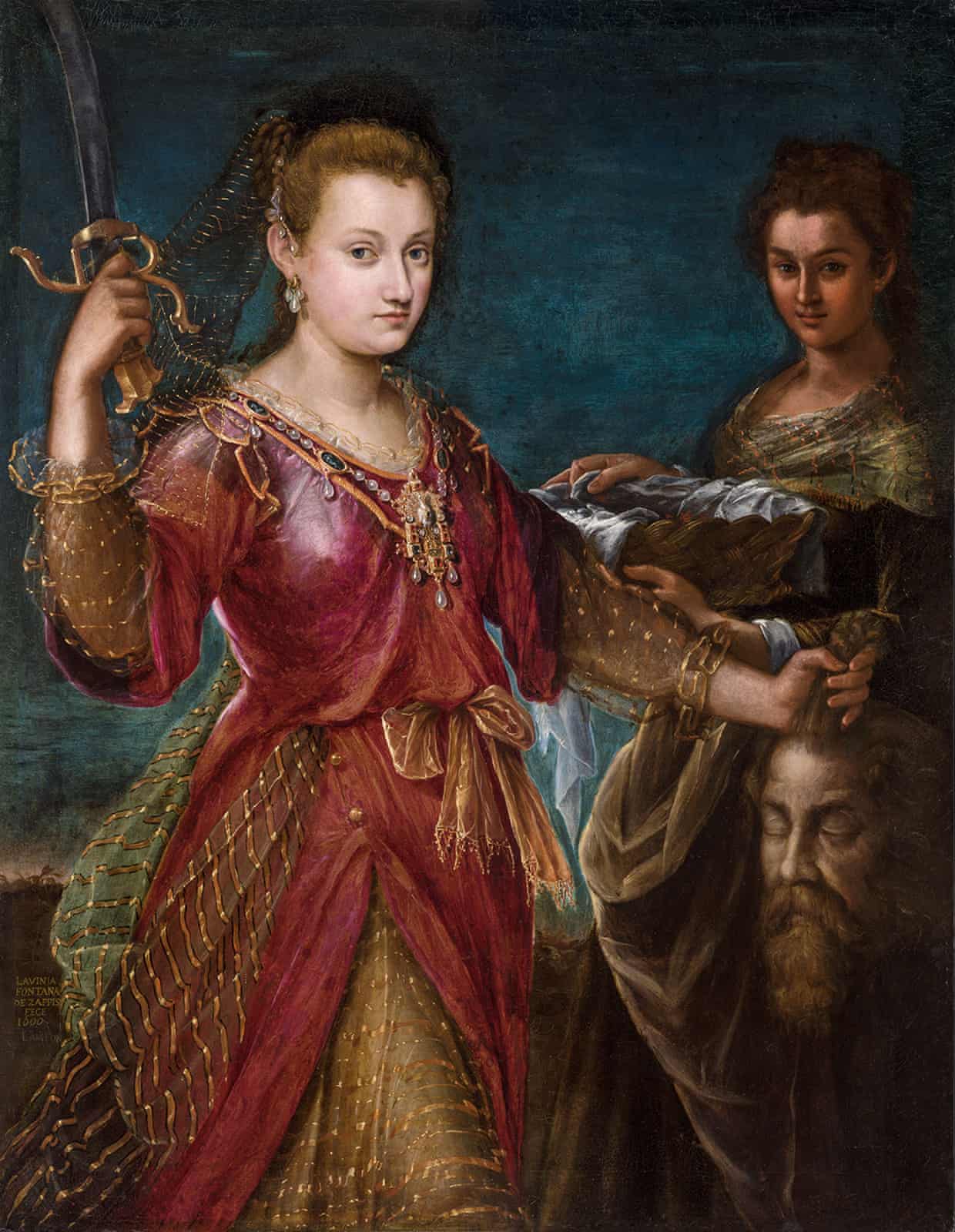 Fontana, Judith with the Head of Holofernes, 1600
She looks at adults and children with empathy, from a baby lying in a crib like a grave to a father and son, who are humorously juxtaposed. While her most glamorous painting didn't make it to Dublin, for which the curators chose a sketch in which Fontana depicted a hairy little girl named Antonietta Gonzalez. It's a marvelous record of her time, when those who seemed to defy nature would be displayed in fairs or, like Antonita and her hairy family, tour European courts.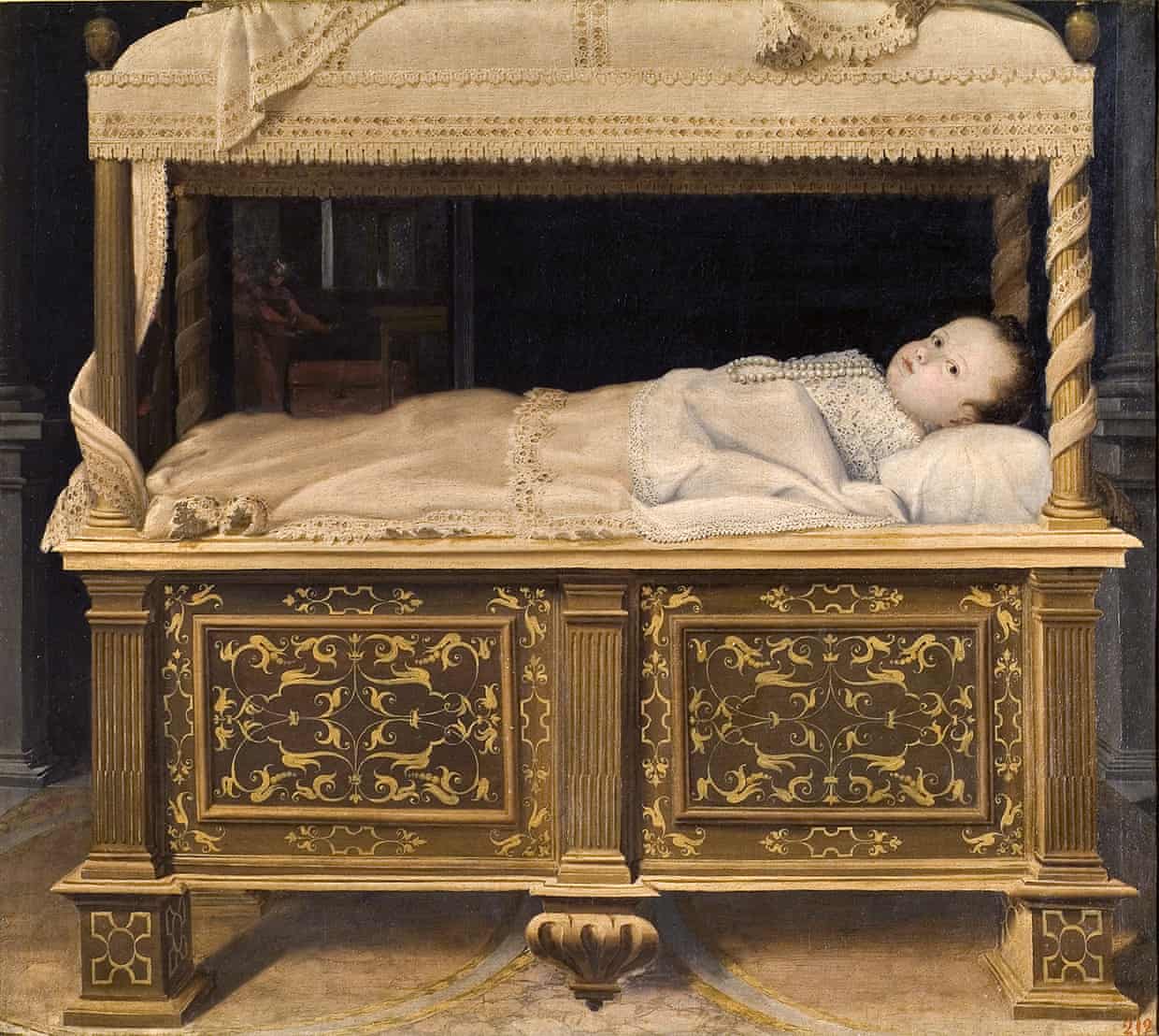 Fontana, Portrait of a Newborn in the Cradle, circa 1583
Being a female artist was a rarity five centuries ago, but Fontana achieved it with such confidence and composure that it seemed natural to her contemporaries. In fact, Campbell doesn't think we should focus on her gender, "We don't want to see Fontana as a prodigy. Her gender is obviously very important, but first and foremost she is an extraordinary, talented painter."
Brady, the curator, agrees: "We try not to get too fixated on women's creations, but to go back to the artworks themselves and celebrate them for what they are."
From astrologer and artist to dwarf in "A Visit from the Queen of Sheba," Fontana is simply a brilliant observer of her world. As he (the dwarf in "A Visit from the Queen of Sheba") looks up at the crowd of women, he boldly reveals himself, his hands resting on the belt behind him in a gesture of confidence and pomp—the It is a Renaissance man drawn by a Renaissance woman.
Note: The exhibition will be on display from May 6th to August 27th, 2023.