The "Vermeer Exhibition" at the Rijksmuseum in Amsterdam has attracted continuous attention since its official announcement. The tickets for the exhibition were sold out within only two days of the opening. In order to ensure the viewing experience, the museum even postponed the closing time from Thursday to Saturday to 22:00. At present, thousands of people are still looking for tickets online. Tickets with an original price of 30 euros were sold for 433 euros in an online auction last week.
So what makes Vermeer so alluring? In his works, we can not only see his control over the picture, but also his changing social cognition of human beings. Especially in the moment of inner turmoil, he gives us a philosophy about the relationship between art and daily life, a kind of tranquil beauty in ordinary life.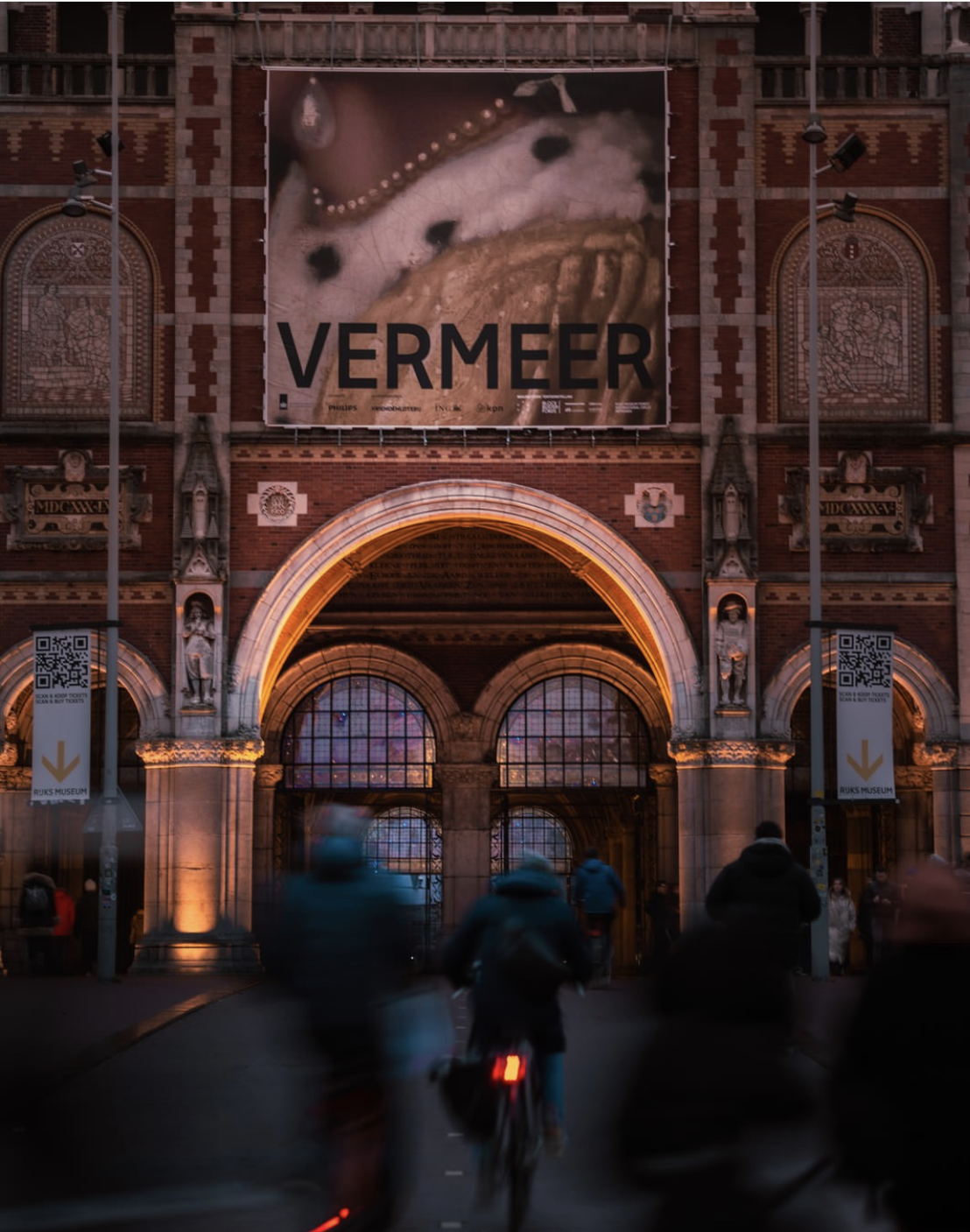 Under the night, the poster of "Vermeer exhibition" outside the Rijksmuseum in Amsterdam, the Netherlands
The contemporary American female writer Marilynne Robinson (Marilynne Robinson) described such a scene in the novel "Gilead" (Gilead) - the protagonist John Ames (John Ames) is a pastor, he is on the way to the church Met a young couple. "After a heavy rain, the sun came up and the trees shone and the air was moist." He recalled that young men in front of him "jumped up and grabbed a branch, and a shower of bright water fell on them, and they laughed. ran away, the girl wiped the water from her hair and skirt", which is "a beautiful thing, as if from a myth".
This description comes to mind when visiting the "Vermeer Exhibition" at the Rijksmuseum in Amsterdam, Netherlands. Vermeer, who lived in the mid-17th century, probably produced fewer than 50 paintings in his lifetime, 37 of which are extant. 28 of them gathered in Amsterdam from all over the world to form the most comprehensive "Vermeer exhibition" ever.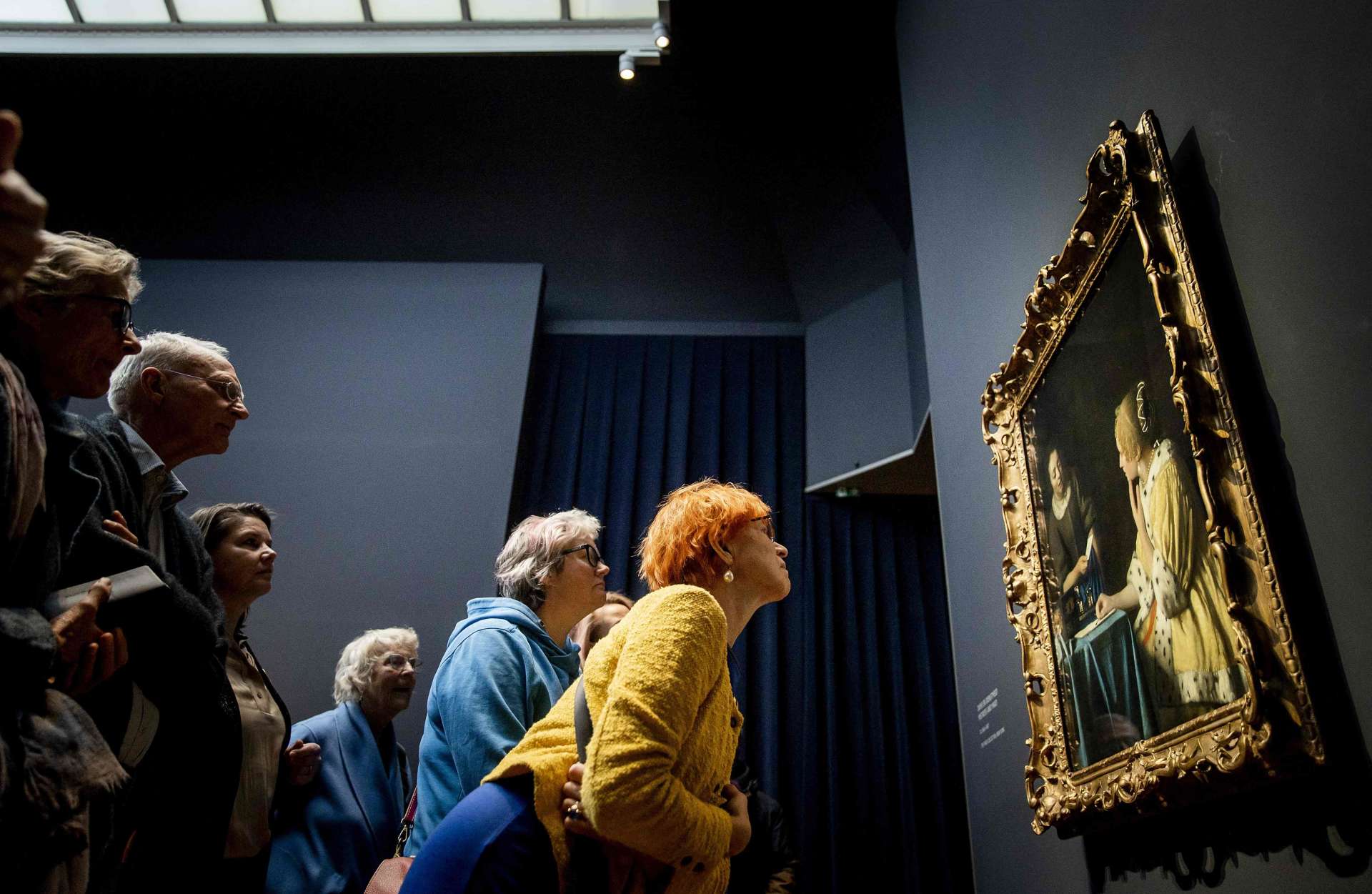 At the exhibition site, the audience is in front of Vermeer's Mistress and Maid from the Frick Collection in New York.
The exhibition presents Vermeer's transition from his early masterful use of religious and mythological themes to his transformative, mature work, most notably his interiors. Almost all of his great interiors are set in a room with a checkerboard floor and windows to the left; They were usually doing ordinary things - reading or writing letters, pouring milk from jugs, playing musical instruments...
This may be because Vermeer is more faced with the so-called "daily life". His fame didn't extend far beyond his native Delft for a long time, and he produced relatively little, as he juggled painting with family responsibilities -- including running a hotel, selling other artists' work, and raising his 11-year-old son. children.
But amidst infinitely ordinary surroundings, the painter of tranquility and light managed to infuse a captivating lyricism. His brushstrokes create a shimmering, otherworldly atmosphere.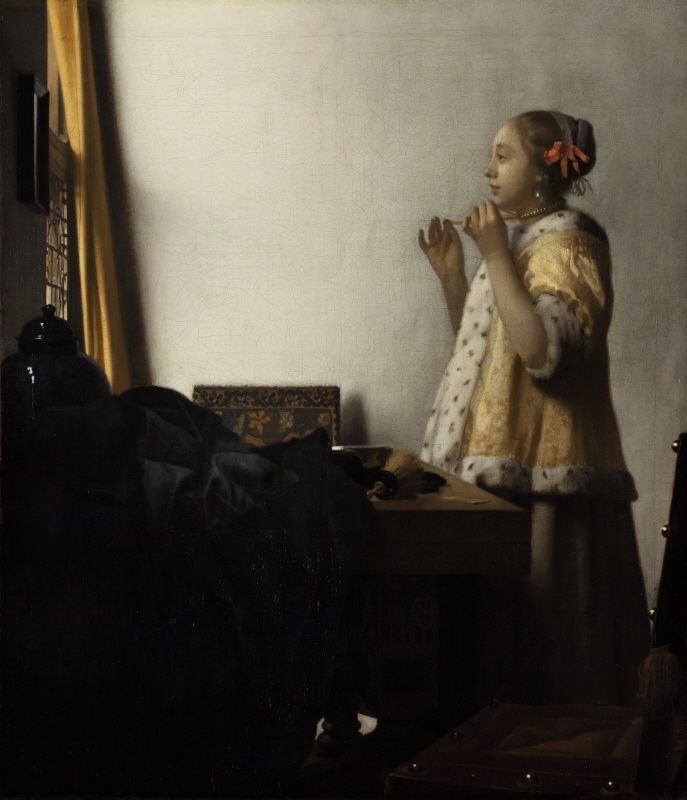 Vermeer, "Woman with a Pearl Necklace", 1663-1665, Berlin State Museum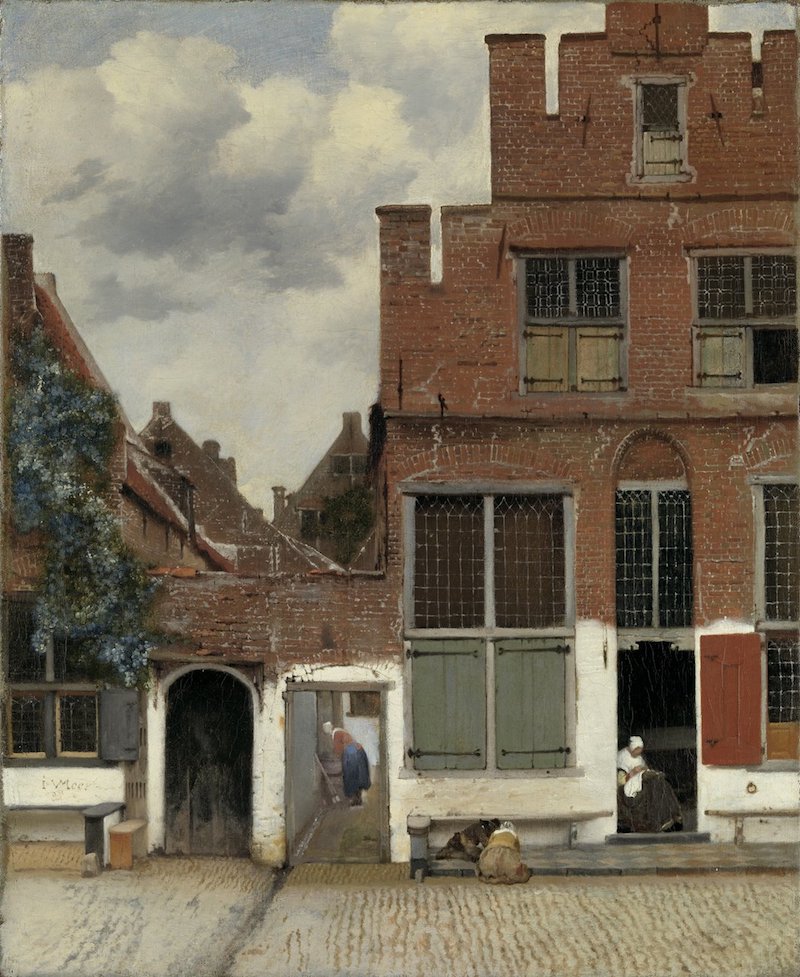 Vermeer, The Little Street (House in Delft), circa 1658, Rijksmuseum, Amsterdam
Compared to Gilead, Robinson finds magic in everyday life. What is in Vermeer is not only his mastery of the brush, but also his changing social perception of human beings.
From the late Middle Ages there was a humanizing urge in European sacred art. Symbolism in this art has traditionally been more important than realism, and thus has developed a desire to represent human admiration and wonder, sorrow and joy in an authentic way, and the viewer can find emotional and religious meaning in these figures. agree.
Not only did the sacred become humanized over time, but humans were also seen as worthy of awe and reverence. The 18th-century French philosopher Denis Diderot wrote that it is "the very existence of man that makes existence meaningful."
Vermeer predates Diderot by a century. In that era, people's views on "meaning of being human" had undergone drastic changes, and modern subjective consciousness began to emerge.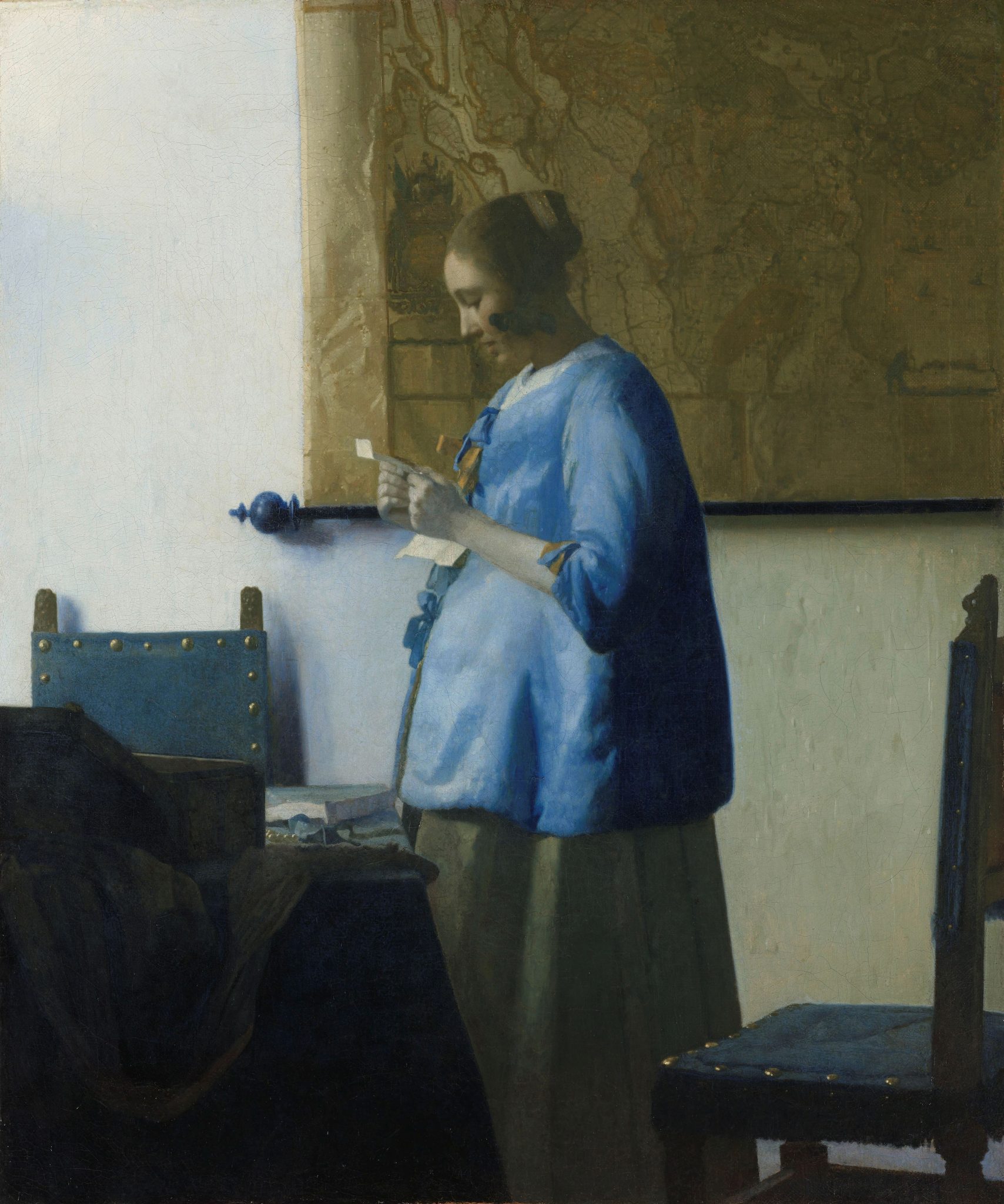 The late American critic Harold Bloom declared: "Insofar as we value and deplore our individuality, we are all heirs of Falstaff and Hamlet, and of every other Shakespeare play that can Called the heir of characters of spiritual color." Shakespeare differs from most of his predecessors in that his characters speak to us with a different voice. They possess a new measure of self-awareness that helps shape the language used to understand emotions and sensations.
In the century between Shakespeare's birth in 1564 and Vermeer's death in 1675, artists, writers, and philosophers came to understand a transformation in themselves and their inner world.
During this period, Rembrandt, who was born a quarter of a century before Vermeer, changed the definition of self-portrait, especially his later works, with unprecedented psychological depth. It was also during this period that René Descartes helped reorient philosophy by placing the individual at the heart of knowledge creation. "Cogito ergo sum" (Cogito ergo sum) - as he puts it.
The stillness in Vermeer's work emerges from the ever-changing vortex of perception, giving visual form to new sensations of the inner world. His interiors are not just depictions of physical spaces, but also metaphors of the inner world.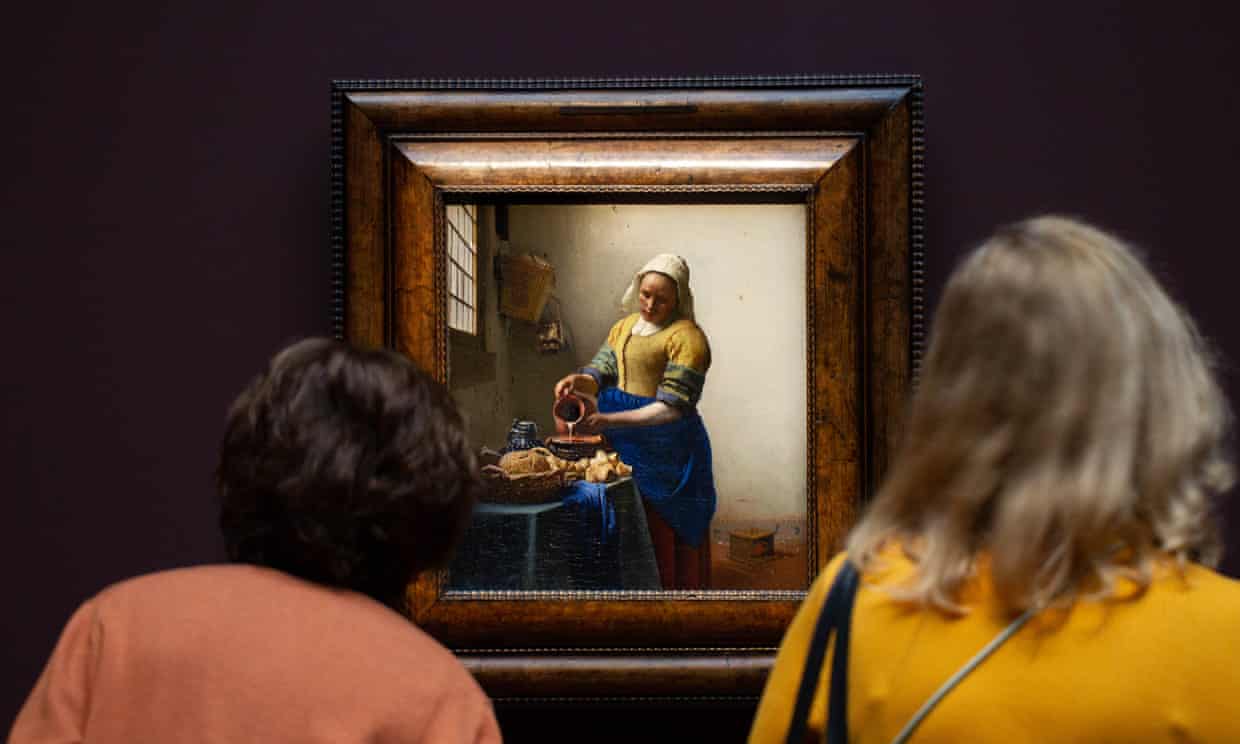 Vermeer's "The Milkmaid" at the exhibition site
We are placed in the room, usually framed by curtains, as voyeurs: when the figures look at the viewer, their eyes are usually expectant, accusing, or pleading, especially in "A Glass of Wine" from 1659. The woman in the painting seems to want to The viewer helps her get rid of the man who gave her the cup. The only notable exception is Girl with a Pearl Earring (c. 1665), in which she looks off-screen with bewitching eyes.
Vermeer's figures have always had a very distinctive sense of blur, an almost pixelated quality that may be attributable to his use of a camera obscura. But no matter what technique Vermeer used, everything seemed to be hidden, and time and time again, Vermeer strung together the subjects of his paintings to create an unreal paradise. His works seem to tell us that art and life need to be separated, to be precise, reality is not ideal. As Wittgenstein later pointed out, we live on rough ground. Our lives are difficult and uncertain.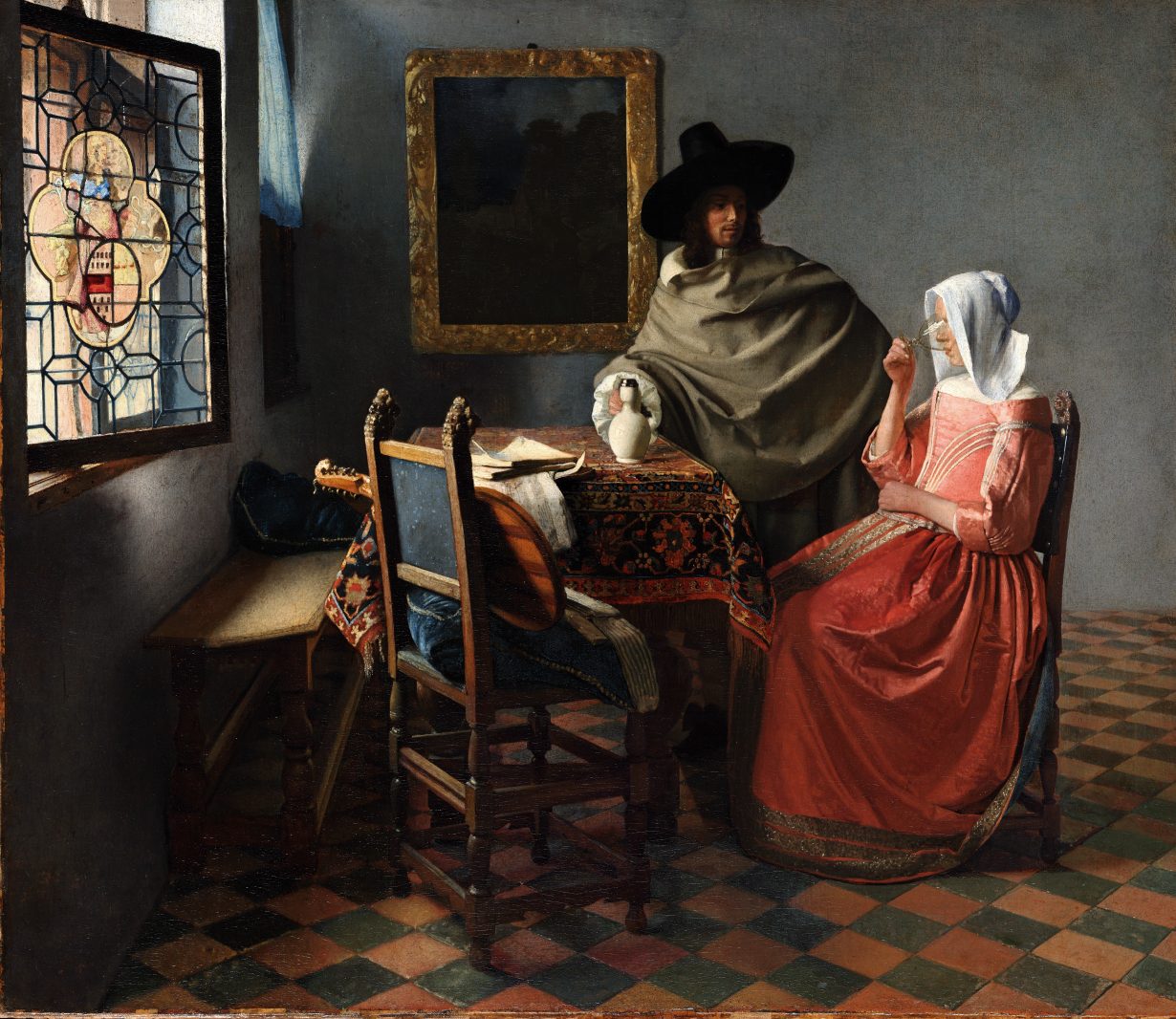 Vermeer, A Glass of Wine, 1659-1661, Berlin State Museum
On a certain level, life is usually not beautiful, but we have the ability to create beauty. As one of Vermeer's favorite subjects is the woman reading a letter, she is engrossed in another person's intimate and private words, a symbolic depiction of another person's inner world. The light in the painting almost becomes the hub of the inner and outer worlds, pouring in from the outside, permeating the inner world, and illuminating the inner beauty of tranquility.
In an age of disillusionment with the prospect of changing the outside world and melancholy about ourselves, poetry and depth like "The Girl Reading the Letter at the Window" or "The Milkmaid" are all the more precious.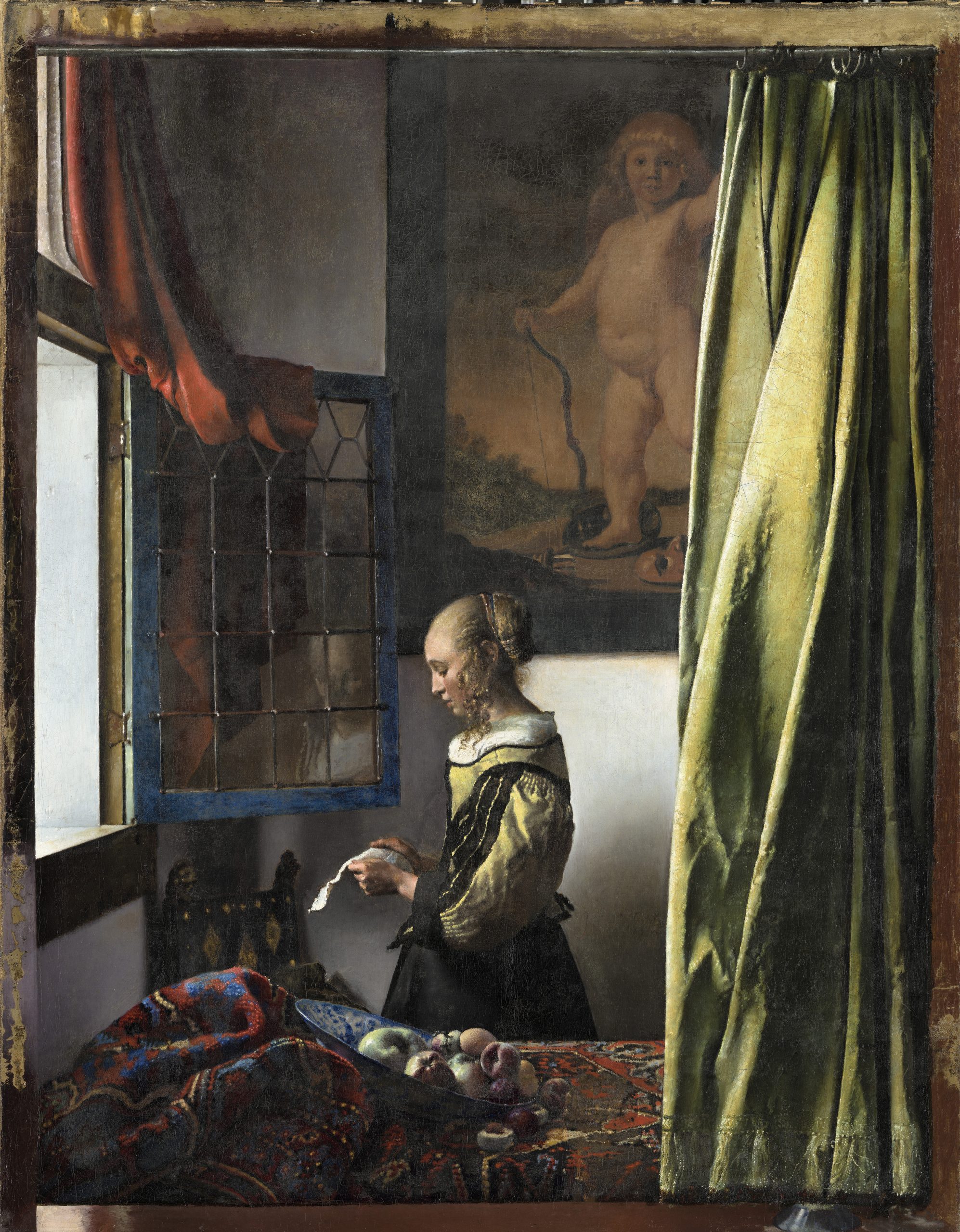 Vermeer, "Girl Reading a Letter at the Window", 1657-1658, Gallery of Old Masters, Dresden Collection, Germany
Note: The exhibition will last until June 4th. This article is compiled from The Guardian "Vermeer's interior offers a new way into the inner world" (Kenan Malik/text) and "Why do we still find Vermeer so fascinating?" (Tom Whyman/text) in ArtReview